Middlesex: Ollie Rayner says pitch played a part in career-best haul
Last updated on .From the section Cricket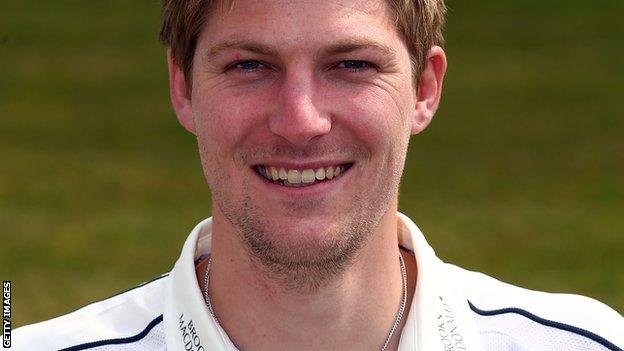 Middlesex off-spinner Ollie Rayner says taking advantage of favourable conditions at The Oval was behind his career-best bowling figures.
He told BBC London 94.9: "I don't think I'll top it for a while but I'll bask in it while it is here.
"It is nice that when a pitch does present what this one has you cash in. There have been plenty of pitches this year which I have struggled on."
After a spell out of the County Championship side this year the German-born former Sussex man was pleased to be among the wickets.
"There have been darker times this year with the bowling and it is nice it is coming to fruition now," he continued. "It has brought the wicket tally up nicely from the start of the year.
"I need to take my hat off to the club as they have been very patient with me. It didn't really go my way at the start of the season.
"They gave me a bit of time out and I didn't feel like I was dropped as such.
"They brought me back arguably sooner than they wanted. I'd like to think I have repaid them by bowling nicely this year."
Rayner also took two slip catches to have a hand in all ten of Surrey's wickets as they were dismissed for 145.
"It could be a trivia question in the future," he said. "It has been an absolutely formidable day. I don't want to use cliches like 'over the moon' but I am really happy with how it has gone.
"I felt good but I have bowled better. The pitch was really conducive to what I was doing. It is nice to cash in when it comes around."