Matthew Mott unhappy with team after Glamorgan's sixth defeat
Last updated on .From the section Cricket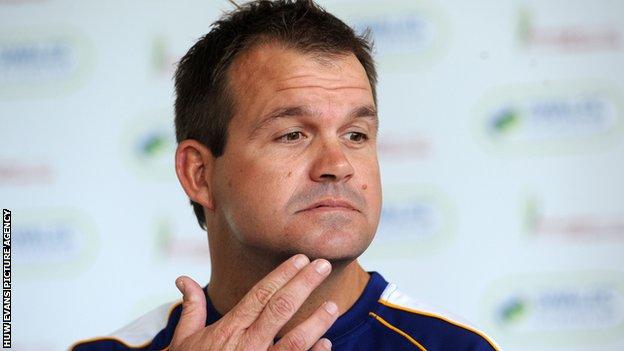 Glamorgan chief Matthew Mott wants his players to take a "look at themselves" after another County Championship defeat.
Mott hailed the performances of Michael Hogan and Jim Allenby, but was not happy with the rest of his squad.
"As a group, I think, every single player should have a look at themselves about how they are going to support those players," said Mott.
"There is a spine of a very good side in there, but the contributions have to be increased across the board."
Glamorgan lie sixth in the table, having won only two games the LV=County Championship.
Kent beat Glamorgan by seven wickets at Cardiff for only their second County Championship win this summer - it was Glamorgan's sixth defeat.
The hosts could only add 21 to their overnight score and were all out for 258, leaving Kent a target of 242.
Kent clinched victory a day early with a second innings tally of 242-3.
Mott, who leaves Glamorgan at the end of this campaign, paid tribute to the performances of Hogan and Allenby during the season.
"It has not all been bad and we have had some outstanding individual performances," said Mott.
"Hogan's impact has been monumental and Jim Allenby has had a fantastic season.
"If we are all looking each other in the eye it has been too little, too often. We have relied too heavily on those key contributors."
Glamorgan failed to reach the knockout stages of the Twenty/20 competition, but have qualified for the semi-finals of the Yorkshire Bank 40.
After another defeat in the County Championship, Mott did not hide his disappointment at the manner of the defeat.
"It is very disappointing and there is no excuse because it's on our home ground," said Mott.
"We should have looked to get 350 in the first innings to give us a bit of leeway for a partnership they had towards the end.
"There is no excuse being beaten inside three days."