Ollie Rayner: Middlesex off-spinner reflects on 15-118 v Surrey
Last updated on .From the section Cricket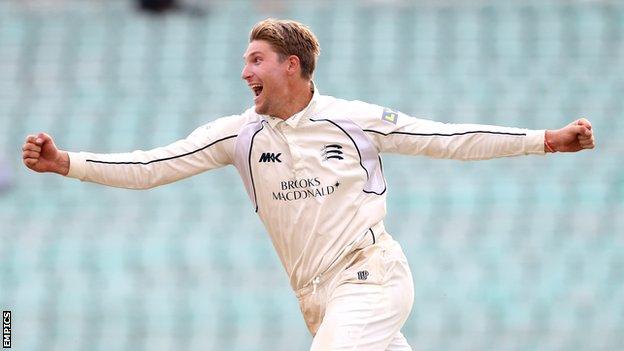 Middlesex off-spinner Ollie Rayner hopes he can improve his batting after recording his career-best match bowling figures against Surrey.
"That is the ultimate goal - for it to all come to fruition at once. It hasn't this season," he told BBC London 94.9.
"The batting has been tough and luckily the bowling has kept my head above water."
Rayner, who scored a century on his first-class debut for Sussex against Sri Lanka, has scored 245 runs at an average of 20.41 this year.
His 15 wickets against Surrey took his tally to 40 in the County Championship this season, and he says his form with the ball has helped him through his disappointment with his batting performances.
"I dipped in a bit with the bat against Surrey so I showed I'm not a total mug with it this year," he said.
"If one is going well it relieves a bit of pressure. If neither are going so well, like at the start of the season, it is hard work.
"You are thinking you have to do something for the team.
"I took a few catches and that was about all I could say I have done.
"One day if it can all come together at the same time hopefully I will be a big player in the side."
Rayner took career-best innings figures of 8-46 in Surrey's first innings and followed that up with 7-72 in the second innings to register the best match figures of any Middlesex bowler since Fred Titmus took 15-95 against Somerset in 1955.
His performance against Middlesex's cross-city rivals is the best of any bowler in the Championship in 2013, eclipsing Sussex seamer Steve Magoffin's 12-31 against Somerset in May.
"I don't really know what to say, which is quite rare for me," Rayner said.
"I am absolutely ecstatic. It's been an amazing match for myself but I really think the batsmen have stepped up as well.
"There was a lot of pressure [on me] after the first eight but the pitch has really helped out me a lot.
"What has set me apart is my height and luckily I found that bounce, which made me a lot harder to face ultimately."
After a difficult start to the year and a spell out of the side, the Germany-born player has taken 23 wickets in his last three four-day matches.
"It has come together all the right time," he said.
"I went three games at the start of the season without any poles [wickets] whatsoever and this makes up for it.
"It is not easy to bowl in April and I think we did pre-season in snow, which is not good for a spinner. The wickets have been a little bit more conducive at this time of year."
The win over Surrey moves Middlesex up to third in the Division One table and 28.5 points behind leaders Durham, having played a game more.
"All we can do now is do the best we can do and not worry about anyone else," Rayner said.
"Gus and the team have been building this side and we have shown we are going in the right direction year in, year out.
"If we keep progressing at the rate we are, we will definitely be contenders for the championship at some stage."