Hampshire v Glamorgan: Matthew Mott tells players to 'have fun'
Last updated on .From the section Cricket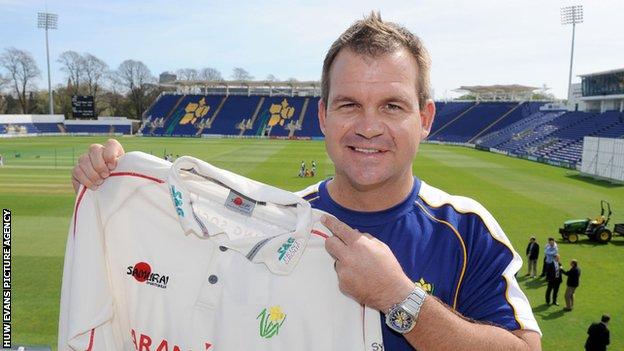 Matthew Mott has told Glamorgan's players to have fun as they bid for a YB40 final at Lord's in Saturday's semi-final against Hampshire.
Director of cricket Mott, who is mindful they have not won any silverware since 2004.
"We're going to give every bit of energy and enthusiasm going into this match," said Australian Mott.
"And we're going to have a lot of fun doing it."
His squad have had a dismal run in the County Championship so far, losing six matches and winning only two. Mott said his players needed to "have a look at themselves" after the most recent loss to Kent by seven wickets.
But he said the YB40 the semi-final at the Ageas Bowl will be an occasion to enjoy as they aim to make the final on Saturday, 21 September.
Glamorgan won previous forms of the 40-over competitions in 1993, 2002 and 2004.
"It's been a long time since Glamorgan have been in this position to play big games in front of big crowds on TV," said Mott.
"I hope our players savour it because you never know when it's going to be around next."
Having won three crunch games to earn their semi-final, Mott believes Glamorgan are now well-placed to reach Lord's.
"We go down there [to Hampshire] with a lot of confidence," said Mott. "We pretty much had a dress rehearsal last week up there in Yorkshire.
"Every match in those last three games was must-win so we're well-attuned to that sort of cricket at the moment."
He is also pleased that having seen a promising Twenty20 start come to nothing, his side now have the chance to make amends.
"We were really disappointed with the end of the T20 campaign," said Mott. "We were on a roll there for a while and we lost our momentum and never really got it back.
"But the way this YB40 competition's panned out, we've had to do it twice.
"We started well then we had a long break. Then we've come back and played good cricket as well."