Nic Pothas: Jersey 'firm favourites', says Guernsey coach
Last updated on .From the section Cricket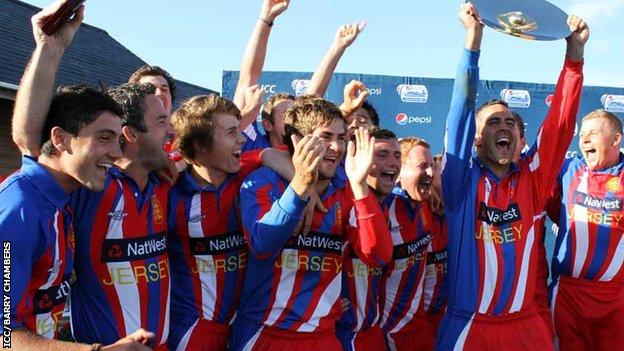 Director of cricket Nic Pothas says Guernsey are the underdogs going into Saturday's inter-insular clash with rivals Jersey.
"I'd say Jersey are in a better position because they've played a 50-over tournament, so they should be far better prepared," he told BBC Guernsey.
"They won it last year and I would say they're firm favourites."
Pothas added: "We haven't actually played a 50-over game as a team apart from club games, which I don't consider practice for this kind of event."
The match has been part of the calendar in Channel Islands cricket since 1957, but Pothas said he was trying to get his players to avoid getting too caught up in the emotion of the day.
"Tradition is obviously very important and it's a massive game for the island, but we are just trying to treat it like any other game of cricket," he said.
"Once you start putting other factors into it you start putting pressure on yourself.
"In an ideal world you play each ball on its merits and try to win each ball at a time.
"There's 600 balls in a day and if you win more balls than you lose, then there's a pretty good chance you'll come out on the right side."
Jersey won the 2012 inter-insular at a canter, with a nine-wicket margin of victory and Pothas said the nature of the defeat was serving as motivation for his players.
"Talking to other people you can see that last year that we got caught on the hop and I would say they probably were a bit complacent," he said.
"We had maybe an ageing team and they had a very young team which ran them a bit ragged.
"That wound is very fresh - it's not just the fact of losing, it's being embarrassed in front of a lot of people that hurts so the guys have prepared really well for this one."
Pothas has made a conscious effort to up the standards in Guernsey cricket since his arrival, and the former South Africa international said he would have no hesitation in picking younger players if they were in form.
"There's not really a theme of picking youngsters - it's a theme on picking people who are producing numbers," he said.
"If you've performed during the year then you get selected. People will need to realise that you need to be playing club games and what was considered OK in the past is no longer OK."