Kent batsman Mike Powell announces playing retirement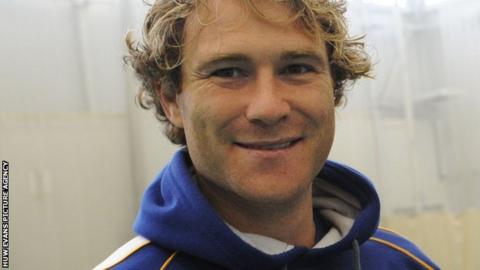 Kent and former Glamorgan batsman Mike Powell has announced his retirement from cricket.
The 36-year-old was released by Glamorgan in 2011 following 15 years with the Welsh county and joined Kent on a two-year contract.
In 2007 Powell was left fighting for his life after complications set in after he had a rib removed to solve a blood clot, but made a full recovery.
"The body cannot do what it used to do," said Powell.
"I could probably play on for a couple of years, but it's now time to move on in my life."
Powell, who also bowled occasional right-arm off-breaks, scored more than 11,000 first-class runs for Glamorgan, including 25 first-class centuries.
His highest score of 299 came against Essex in 2006.
Powell helped Glamorgan to the 1997 County Championship, in his first season, before winning two one-day titles in 2002 and 2004.
He was called up for England's one-day squad in 2004, although he missed out on selection for a match-day XI.
His finest season came in 2006 when he scored 1,327 runs, earning him Glamorgan's Player of the Year award.