Glamorgan's Jim Allenby reveals England frustration
Last updated on .From the section Cricket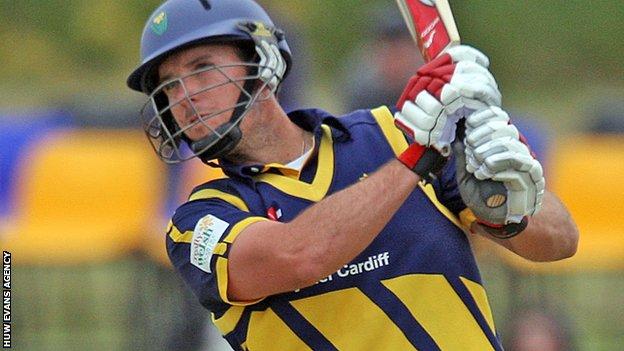 Glamorgan all-rounder Jim Allenby says he is frustrated he has not gained any recognition from the England selectors.
Australian-born Allenby moved to the United Kingdom 13 years ago in a bid to play cricket for England.
He was man-of-the-match in Glamorgan's semi-final win over Hampshire to get them to Yorkshire Bank 40 final at Lord's.
"I cannot help where I was born, but I am English like the rest of the guys," said Allenby.
Allenby, 30, says even now he is still described as "Australian" in the media despite having played in England since 2002.
The right-handed batsmen and right-arm medium pace bowler still has an Aussie twang in his accent admits he is frustrated at not being on England's radar.
"It's been a long 13 years and a long eight years in county cricket, so I think I have made a commitment to English cricket," said Allenby.
"I think my performances have been good enough, but you need to play in finals and win finals and we are starting to do that now.
"If we do that, maybe I will get accepted more as an English/Welshman, so fingers crossed."
He joined Glamorgan in 2009 and has played a key role in helping the Welsh county to reach their first Lord's final in 13 years.
Allenby will be part of a Glamorgan side which will face Nottinghamshire in the YB40 final at Lord's on Saturday, 21 September.
Perth-born Allenby has paid his dues in English cricket, playing club and country cricket before having his first taste of success when he won the Twenty20 Cup with Leicestershire in 2006.
Allenby says Australia are now starting to show an interest about him playing for the country of his birth, but he claims his priority is Glamorgan and realising his ambitions with England.
"I would love to (play for England) and I have made no secret of that," said Allenby.
"I have been a bit disappointed not to be considered for squads for a few years - I think my performances have been up there.
"We are now playing well as a team, playing big games and I have done pretty well in some big games, so I would be surprised and disappointed if I don't get a call to see where I am at.
"England are one of the best sides in the world and if it was the late nineties, I would probably be quite close . . . but it's not.
"I am extremely committed to Glamorgan at the moment and I am here for the next four years for my sins.
"I have not thought about it (playing for Australia) that much, but I would have to consider it that is for sure."