Glamorgan: Simon Jones to retire from first-class cricket
Last updated on .From the section Cricket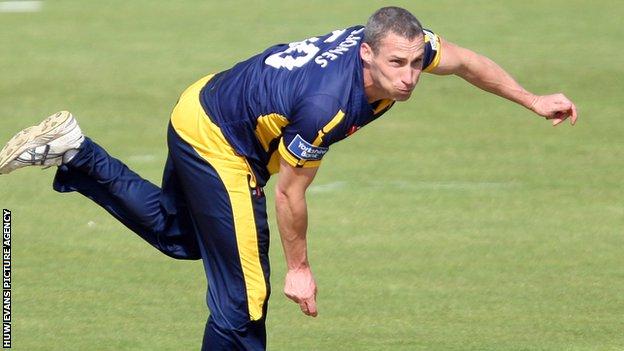 Former Ashes hero Simon Jones plans to retire from first-class cricket following Glamorgan's YB40 final against Nottinghamshire at Lord's.
Glamorgan chairman Barry O'Brien plans to meet up with Jones after the final on Saturday week (21 September).
"My contract with Glamorgan finishes at the end of the season," said Jones.
"It's given me a chance to reflect on what I do next.
"I missed some games early season, so to come back in and be part of getting the team to Lord's has left me hungry to continue playing.
"The Yorkshire Bank 40 final is a fitting opportunity to stop playing the longer forms of the game and concentrate on T20 cricket, where I know I can still be at my explosive best."
Jones, who played a starring role when England regained the Ashes in 2005, began his career with Glamorgan in 1998, going on to play 18 Tests and eight one-day internationals.
He left in 2007 for Worcestershire, returning to Glamorgan, initially on loan from Hampshire, in 2011.
Jones has also had to manage a long-standing knee injury which requires daily treatment with ice.
While chairman O'Brien has hinted at a possible T20 future for him at Glamorgan, head of elite performance Matthew Mott believes that Jones will also be sought after elsewhere in the sport's most abbreviated format.
"Simon has shown great character and determination to keep pushing himself despite his time out of the game at Glamorgan," said Mott.
"We wish him well in his endeavours to concentrate on T20 cricket and thank him for his contribution both on and off the field.
"It is a smart and well-thought-out decision and I am sure that a number teams around the world will be keen on him given his increased availability for T20 competitions.
"He is still in great shape and has the passion to keep playing and bowling quick for a few more years to come.
"Hopefully he can sign off his one-day career with Glamorgan in a winning team at Lords."