Glamorgan hopeful of re-signing Goodwin, Cosker and Jones
Last updated on .From the section Cricket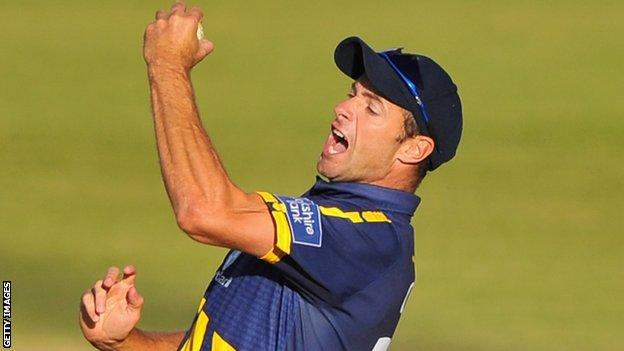 Glamorgan say they are close to securing the services of leading run scorer Murray Goodwin and spinner Dean Cosker for the 2014 season.
And ex-England bowler Simon Jones is set to sign a new contract to play just T20 cricket for the Welsh county.
All three have been in discussions with the club about new deals.
"We'd expect those players to be here next year subject to reaching an agreement," said Glamorgan chief executive Alan Hamer.
"Discussions have been ongoing for some time.
"In relation to Dean and Murray, contracts have been issued for those players and discussions will take place with Brian Rose [Glamorgan cricket consultant], Hugh Morris [director of cricket-elect] and those individuals.
"And we are hopeful we will be able to resolve them fairly soon.
"Announcements will probably follow in the next couple of weeks.
"In relation to Simon, Hugh has already said that he plans to meet Simon over the coming weeks to see whether there is a possibility of him continuing his career with Glamorgan in the shorter form of the game."
Both Cosker, 35, and Goodwin, 40, had admitted to wanting contract extensions at the club.
Cosker, who made his debut for the county in 1996, had said in August: "I really want to commit myself to Glamorgan cricket."
And Goodwin had also said in August: "I'm hoping that the club is still willing to negotiate because I don't want to actively pursue another club.
"I've made the commitment here, I've enjoyed my time here."
Cosker, Goodwin and Jones are all set to be involved in Glamorgan's YB40 final against Nottinghamshire at Lord's on Saturday - the Welsh county's first showpiece since 2013.