Decision Review System to change for winter Ashes series
Last updated on .From the section Cricket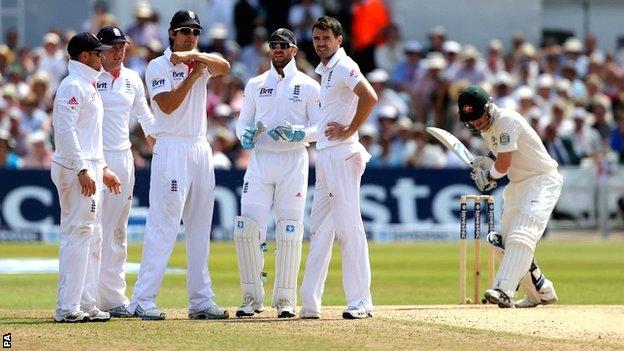 The decision review system (DRS) used in Tests will be changed to allow an extra two referrals per team in this winter's Ashes series.
An International Cricket Council trial will start from 1 October allowing reviews in Test matches using DRS to be topped up after 80 overs of an innings.
At the moment teams are allowed two unsuccessful reviews per innings.
DRS was criticised during this summer's England v Australia series after a string of controversial decisions.
BBC cricket correspondent Jonathan Agnew said on Twitter that the change was "bonkers".
"Reviews need reducing not increasing! Paves the way for more speculative time-wasting LBW reviews," he wrote on the social networking site.
Snickometer, which detects edges using sound, could also be made part of the DRS process, subject to further testing.
Many of the questionable decisions during this summer's Ashes related to Hot Spot, which uses heat sensors and infrared cameras to determine what, if anything, the ball has made contact with.
In some of these instances Snickometer might have helped, but it is not currently part of DRS because it takes too long to return a result.
The ICC also suggested extra training for television umpires and announced its intention to clamp down on slow over-rates and time wasting and to "maximise playing time in conditions where is it safe to do so".
England were denied a dramatic win on day five of the final Ashes Test at The Oval when the umpires took the players off the field for bad light.
Chasing 227, England were 21 runs short of their target with four overs remaining but the umpires deemed the conditions too dangerous to play in.
It is believed Australia and England could reach their own agreement over what conditions they would play in during this winter's Ashes series.
Agnew said: "All the grounds have excellent floodlights, if the lights are on you play. Some fielding teams will chunter, of course.
"I have seen matches where fielding in those circumstances is difficult but it is the same for both sides and you cannot possibly have a situation again where with four overs to go and a finish building up the umpires take the players off."
The first Test of this series in Australia starts on 21 November in Brisbane.