Matthew Mott tips Watkin and Croft as Glamorgan replacements
Last updated on .From the section Cricket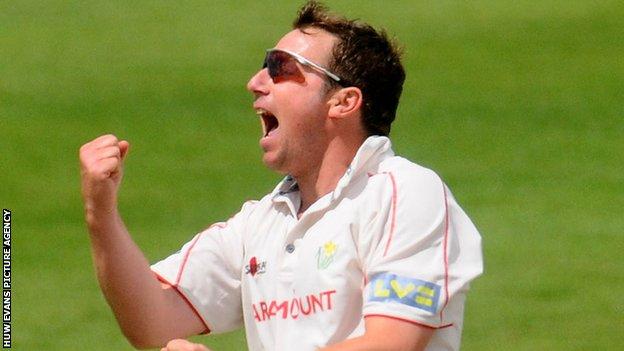 Outgoing Glamorgan director of elite performance Matthew Mott would be disappointed if Robert Croft and Steve Watkin did not apply to replace him.
The Welsh county have advertised for a head coach following Mott's announcement that he would be leaving at the end of the season.
Mott told Radio Wales Sport that both have the required skills for the job.
"I think they're both well [qualified] and they're both Glamorgan legends and they tick all the boxes," he said.
"I'd be disappointed if both of them didn't apply."
Bowling coach Watkin and spin-bowling coach Croft are among the leading Glamorgan bowlers of all time.
Off-spinner Croft took 1,175 first-class wickets for the county in a 23-year career and played 21 Test matches for England. He also scored more than 10,000 first-class runs.
Seamer Watkin claimed 902 first-class victims between 1986 and 2001 and played in three Tests for England.
Mott, who laughed-off the prospect of reapplying for the job himself, believes both former players have the credentials to do the job.
"They've both done it all on the field," he said.
"Watty in particular has done a lot over the past few years as a bowling coach.
"He's brought through a good crop of young fast bowlers, and Crofty's added a lot of impetus in the past year or so since he's come in and been involved.
"They're two very good candidates and I'm sure that the job will be very well sought after."
Mott announced his intention to leave the county before they secured a place in the finial of the YB40 tournament.
They face Northants at Lord's on Saturday - their first appearance in a final at the home of cricket since 2000.
The Welsh county have not won any silverware since 2004, when Croft captained them to the one-day league title.
And they announced on Wednesday that former South African Test batsman Jacques Rudolph will replace Marcus North as their overseas player in 2014.
North believes his successor will have good foundations to build on.
"I think whoever gets that job will take over a team that's gone through that... developing phase and I think that it's ready to challenge regularly for titles.
"It's [the club] in a reasonably healthy state and I'm sure that the current coaching staff in there will put their name forward and apply and there'll be some great people from outside as well who'll be throwing their hat in the ring."
Hugh Morris agrees that Croft and Watkin would be good candidates for the job.
The former Glamorgan captain takes over as chief executive and managing director at Glamorgan at the end of this year after spending 16 years with the England and Wales Cricket Board and latterly as managing director of the England Test team.
Asked if he thought Croft and Watkin would apply, Morris replied: "I would certainly hope so."
And he added: "I want as many good candidates applying for the job as possible. This will probably be the first thing I get my teeth into when I come back and I'm looking forward to interviewing the shortlist of candidates in October."