Stephen Moore: Bowlers key to titles in 2013 county season

By Stephen Moore
Lancashire opening batsman
Last updated on .From the section Cricket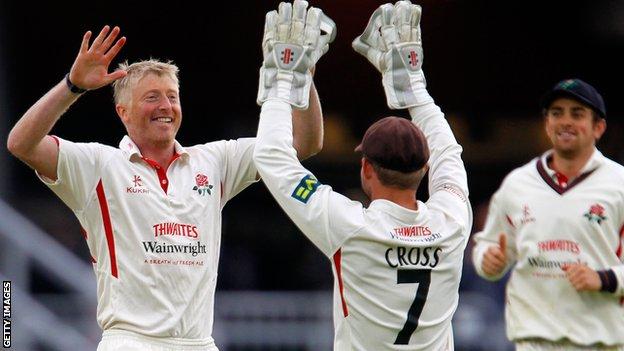 There is a distinct feel of autumn in the air, and with only the last round of County Championship matches left in the season, summer is almost over.
All the major trophies have been handed out and players, coaches, county committees and supporters will start reflecting on successes, missed opportunities, and what may lie ahead.
The teams that claimed the prizes were maybe not the most fancied in April, but no-one can argue that they are not deserving.
The English county season is widely regarded as the most challenging for players. Intense competition, changeable conditions, and a schedule so demanding that at times weeks pass before you get a day to have a break or practice session, all contribute to this reputation.
My own career at Lancashire is over. During my time at Old Trafford, I have seen it metamorphose from a tired legend to a state-of-the-art stadium for the future, but despite a consistent approach to achieving success on the field, there have been extreme highs and lows.
However, as a side, we have one of the best win-loss ratios across all competitions over the last four years and that is testament to the commitment of the players and support staff.
At the start of this season, the goals we set were to gain promotion to the top flight of the Championship and to win the FLt20 and we came close to achieving that double.
It is not realistic to target three competitions, but this focus stood us in good stead, and we also played well in the YB40, only narrowly missing out on qualifying for the semi-finals from a tough group.
In the Championship, our individual assignments were simple. We needed more stability in the run-scoring department and three bowlers to take 50 wickets.
It is no coincidence that when we won the Division One title in 2011, we had three bowlers who achieved just that. In 2012, Warwickshire had three and this year Durham have had two 50-plus contributions, plus back-up bowlers striking at clinically low averages, but not playing enough games to amass the half-century.
This highlights the importance of a successful bowling attack in winning Championship matches. With the points structure as it is, winning matches is all that matters and this year we had three bowlers take 50 wickets or more at Lancashire and won promotion.
Nowadays we see more sporting wickets which, in turn, often produce exciting cricket. Squads are starting to play more to their strengths, trying to marry conditions to their match-winners.
At Durham and Trent Bridge you are going to see swing and seam, while at Old Trafford and The Oval you will see spin and bounce. These are some of the intricacies that make four-day cricket so unique to the discerning supporter.
As for next season, the structure is going to change again, and although I believe the changes are not radical enough, I hope they help get England players appearing in county cricket on a more regular basis.
This will not only generate more interest in domestic competitions, but will help foster the next generation of international stars.
I have not decided what the future holds for my career yet, but am able to reflect on the past.
In my time as a professional, I have been lucky enough to work with some wonderfully insightful and hard-working coaches - but I learned more about batting standing 22 yards away from Graeme Hick than I ever did in a net.
The best players as a collective carry the game forwards and to make any competition great, they need to be competing against each other.
You can follow Stephen Moore on Twitter at: http://twitter.com/stephen_moore6 (external site).