England play dour cricket - Australia coach Darren Lehmann
Last updated on .From the section Cricket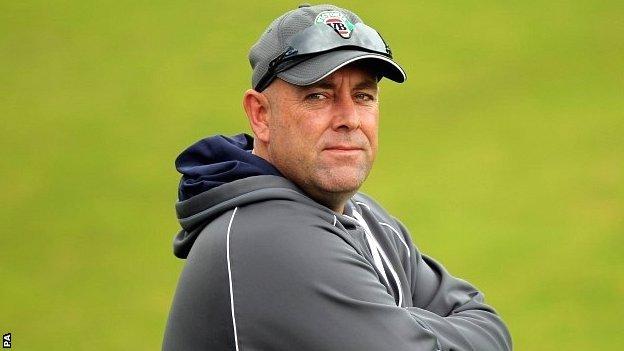 Australia coach Darren Lehmann has described England's brand of cricket as "dour" and is confident his side will regain the Ashes at home this winter.
Asked about England's style, Lehmann said: "Dour. It's not the type of cricket I'd play. At times I'd like to see their over rates picked up.
"We've found England cracks and worked out plans. I'm always confident."
England, who will announce their squad at 12:00 BST on Monday, will be aiming to win a fourth consecutive Ashes series having retained the urn over the summer.
Australia lost the first Test at Trent Bridge by 14 runs but were outplayed in a 347-run defeat in the second at Lord's.
The tourists were on course to win the third Test at Old Trafford when rain helped save England, and they also held a strong position in the fourth Test at Chester-le-Street before slipping to a 74-run defeat. Bad light contributed to a draw in the fifth Test at The Oval.
"England were more experienced at the key moments and took their chances," Lehmann told former England captain Michael Vaughan in an interview for the Tuffers and Vaughan programme to be broadcast on BBC Radio 5 live from 21:00 BST on Monday.
"We had a lot of chances and probably didn't take them. When we did take them we really drove the game. At Old Trafford and The Oval we really drove Test match. That's the sort of standard we want to play.
"We found out a few things about England, which is great for us moving forward. I like the way we played in the last three Tests, I liked the attitude and I liked the aggression."
Lehmann was pleased by the way his bowlers dealt with Alastair Cook and Jonathan Trott, two of England's most prolific batsmen in recent years but restricted to averages of 27.70 and 29.30 respectively during the Ashes.
Ian Bell was England's stand-out batsman with an average of 62.44.
"We've made some inroads [on getting into Trott's head] and I hope that continues," said Lehmann. "He's a good player, we know that, but I think we've worked out plans, which seem to work for most of their batters.
"I think we bowled well to all of their batters, probably bar Bell. I think we bowled really well to Bell - he just played better than most of the others. In terms of knowing their batters back to front, we've got that down."