Will Smith: Former Durham captain to leave county champions
Last updated on .From the section Cricket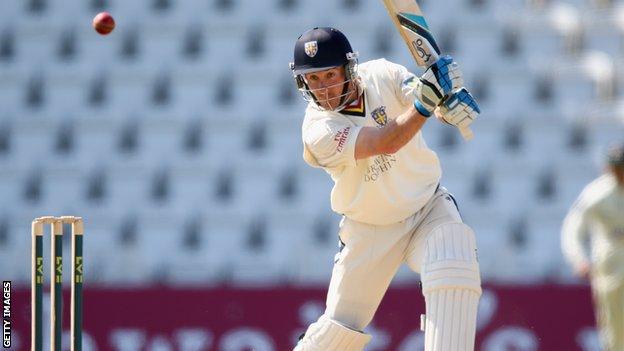 Former captain Will Smith is to leave county champions Durham after eight seasons with the club.
The 30-year-old batsman and occasional off-spinner led the side to the County Championship title in 2009 and was also part of the 2008 title-winning squad.
Smith began his career with Nottinghamshire, where he played in the championship-winning team of 2005.
Durham's four-day match at Sussex, the last of the 2013 season, will be Smith's 122nd first-class appearance.
He went into the game having scored 5,963 first-class runs, at an average of 31.38.
Smith is the second member of the current squad to have their departure confirmed.
Seamer Mitch Claydon has signed to play for Kent and fellow bowlers Steve Harmison and Callum Thorp are both expected to confirm their retirement.
Speaking after the victory over Nottinghamshire that confirmed Durham as this season's county champions, captain Paul Collingwood described the departures as "probably the real regret of the season".
Collingwood added: "The financial situation at the club means we have to lose a lot of players - players we don't want to lose, players who have put their hands up at the right times and put in big performances for us.
"They've been absolutely magnificent for this club and they've been driven by their own personal pride in many ways.
"I do take my hats off to the guys who keep fighting for Durham and knowing that it's probably going to be their last year for them."