Matt Hunn: Kent first-class debut a 'whirlwind'
Last updated on .From the section Cricket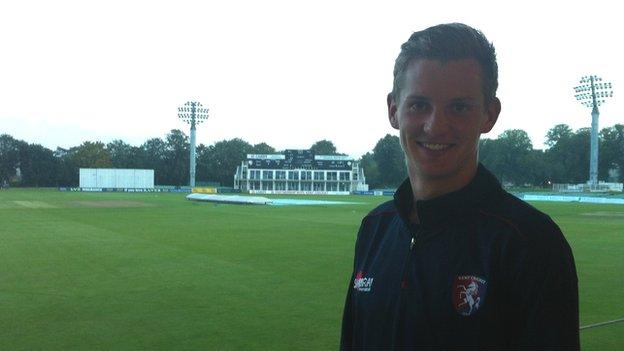 Kent fast bowler Matt Hunn says making his first-class debut has not sunk in after a "whirlwind" few days.
"I found out on Friday they wanted me to play and then they had to get me registered," he told BBC Radio Kent.
"It was all sorted at the last minute. It was ridiculous. I genuinely can't believe it."
The seamer marked his debut with the wicket of Oliver Newby before the close of play on Tuesday and dismissed Ashwell Prince on Wednesday morning to finish the first innings with figures of 2-51 from 17 overs.
Speaking at the end of play on day one, Hunn said: "I am glad to have my first day under my belt.
"It's nice to get a wicket and now I move on from that.
"But I didn't feel I bowled as well as I could and didn't get the batsmen play as much as I wanted to.
"Considering I haven't bowled for a couple of weeks as I thought my season was done, it could have come out a bit better."
Colchester-born Hunn has played minor counties cricket for Suffolk for the past two years.
He was given a chance at Kent as Bobby Flack, Suffolk manager, knows Kent coach Jimmy Adams from a coaching course.
"You can notice a massive step up between minor county and major county, as you'd expect," Hunn said.
"Second-team cricket is still better than minor counties, I'd say. It was good to play that through the summer and that has helped me a lot.
"I've got a lot to be thankful for back home with Sudbury, Bury St Edmonds, Frinton - where I first started my cricket - and Easton.
"I wouldn't be here today without that."
Having passed up the opportunity to go to university in order to concentrate on his cricket career, Hunn hopes to make the most of the opportunity at Canterbury.
"The competition is healthy and what you need to make a successful team," he said. "There is such a variety of seamers, it is good to have.
"Any opportunity I get I want to take and be able to say I gave it my best shot, no matter what happens.
"Whether it comes in one-day or four-day cricket, I'll see where I go."