Spot-fixing cricketer Westfield says 'prison was hell'

Last updated on .From the section Cricket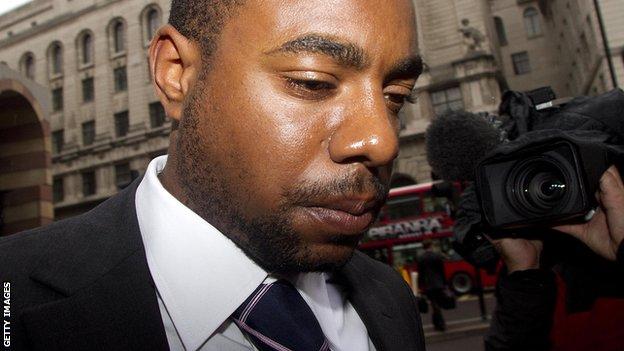 Former Essex cricketer Mervyn Westfield has described his time in prison as "hell" in his first in-depth interview after his conviction for spot-fixing.
In an interview for the Professional Cricketers' Association, Westfield accepts he did wrong and now wants to help educate young cricketers.
"What I've done I know is bad," he said. "I just want to rebuild my life, help the PCA out."
The PCA wants to show the interview to every young cricketer as part of its education programme.
Westfield was approached by Essex team-mate Danish Kaneria and asked to concede 12 runs in his first over during a match against Durham in September 2009.
Although Westfield failed to carry the plan through because the over only went for 10, he was still paid £6,000.
"When I bowled my first over, I didn't even check the scoreboard to see if I went for 12 or more," he said. "All the emotions going through my head, I was just confused about what was going on."
Westfield said he felt pressured into taking part in the fix and was told he was not the only player who has been approached, claiming Kaneria's associates had "suggested a few people in the game were doing it as well".
After serving two months of a four-month sentence at Belmarsh prison, Westfield said: "I wouldn't wish it on anyone."
He added: "They tell you literally what you can do and what you can't do, what time you can eat, what time you go back into your room, what time you come out for exercise, what time you can have a shower.
"I'd just found out my dad had cancer as well. Obviously I wanted to be there for my dad and obviously I couldn't."
As well as receiving a prison sentence, Westfield was banned from professional cricket for five years and stopped from participating in club cricket in any capacity for three.
The second ban has now been reduced after he agreed to participate in the PCA's anti-corruption programme and he could return to club cricket in April 2014.
"Not being able to play or coach any sort of cricket is a massive shock to me, definitely," said Westfield.
"If I can give back to anyone - kids, older people... it doesn't matter to me as long as I give something back, make sure someone doesn't go through what I went through.
"I've lost the best job that I ever wanted. I would definitely have liked to play for England, yeah, but obviously with my situation it's not possible now.''
Westfield's barrister, Yasin Patel, said: ''The video is educational, biographical and Mervyn's story of the episode. One hopes he will be respected for his honesty, openness and bravery in coming forward in so forthright a way.
"We all hope Mervyn's actions can now make a big difference for all those that follow to play the professional game whether here in England or wider afield."
Jason Ratcliffe, assistant chief executive at the PCA, believes Westfield deserves respect for what he has done.
"It's clear from the chain of events that Mervyn has been through a lot, both within the criminal justice system and the games discipline commission," said Ratcliffe.
"He recognises he did wrong and that the time is right to make amends to ensure nobody makes the same mistakes."