Andrew Strauss: Kevin Pietersen's SA texts 'crossed the line'
Last updated on .From the section Cricket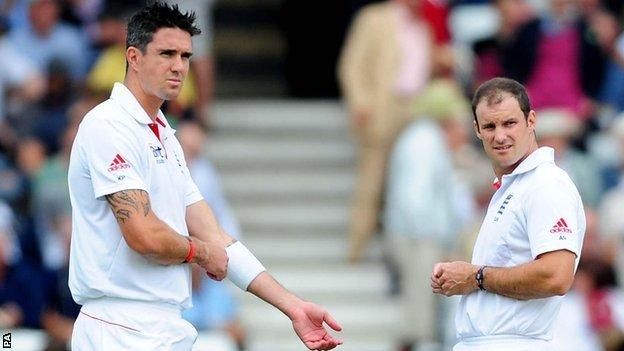 Kevin Pietersen "crossed the line" when he sent "provocative" messages to the South Africa team in 2012, according to former England captain Andrew Strauss.
In his autobiography, Strauss admits to being "dumbfounded" at the incident.
"He seemed to be at best destabilising and at worst undermining our carefully cultivated team environment," he said.
In his book, serialised in the Daily Mail, Strauss has written in depth about the controversy, which overshadowed the final days of his England captaincy.
Since the incident, Pietersen admitted sending messages to his "close friends" in the Proteas dressing room but denied initial reports that he passed on information on how to get Strauss out.
Strauss, who also revealed Pietersen visited his house to explain himself and apologise, says he is satisfied the messages did not contain such information but the issue marred his final days as a professional cricketer - admitting he was "wallowing in a rising tide of sadness" as the story developed.
"I wasn't all that bothered about him sending texts to the South African players he knew quite well," said the 36-year-old. "I did, however, have issues with him criticising me to the opposition.
"That felt like talking out of school, not to mention giving the opposition a way to drive a wedge between Pietersen and myself and the team.
"And if he really had given information about how to get me out, well that amounted to treachery and I would never forgive him.
"I am confident, in retrospect, that he did not give the South Africans information on how to get me out.
"The nagging frustration I still have is that all of that time, effort and commitment from our players over a three-year period to make our environment special and different was undermined in one episode."
Former Middlesex batsman Strauss also revealed that his decision to quit the sport had not been forced by the furore surrounding Pietersen, and instead cited poor form with the bat as the main "driver".
He spent this summer's Ashes series working as a television pundit and is believed to be mulling over the opportunity to replace Hugh Morris as England's managing director of cricket.
Should he be eventually given the job, he would effectively be Pietersen's backroom chief.
Pietersen missed last year's World Twenty20 in Sri Lanka but returned for the winter Test series against India and helped the team to an historic victory on the sub-continent.
The 33-year-old could win his 100th cap for England in this winter's Ashes series in Australia.