Monty Panesar: Ashes call-up is boost for England spinner
Last updated on .From the section Cricket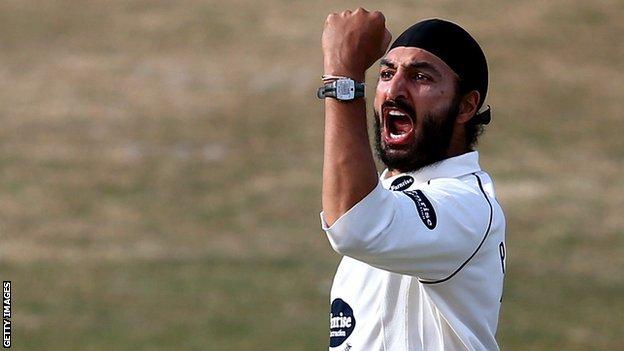 England spinner Monty Panesar says making the squad for this winter's Ashes was the boost he needed after fearing his career could be over.
"I just can't tell you how thrilled I am with the selection," the left-armer told the Mail on Sunday.
"It's an incredible boost I needed as a cricketer and as a person, after a chapter in my life I'm ashamed of."
Panesar left Sussex to join Essex on loan in August after the incident at a Brighton nightclub, and is looking for a new county for next season.
He explained that England captain Alastair Cook and team director Andy Flower were two of the people he phoned to explain his actions and to apologise, before the story made headline news.
"I know it looks terrible but I wasn't as drunk as people believe," insisted Panesar.
"Yes, I'd had a lot to drink, but I wasn't paralytic. I was asked to leave and then got caught short. The next thing I knew the bouncers were shouting at me and running after me.
"I swear I didn't see them and I had no intention of purposefully urinating on them or near them. To be honest, I barely went at all and I'm pretty sure I didn't hit them."
He continued: "The next morning I woke up and thought, 'What have I done?'
"My first reaction was that I'd just thrown my England career away, maybe even my whole cricket career. I felt very lonely and very depressed. It was a very dark time.
"KP [Kevin Pietersen] did send a text telling me to keep my chin up and not to be too worried, which was nice."
Panesar's behaviour was back in focus earlier this week when he was handed a one-match County Championship ban, suspended for a year, after accepting a charge of misconduct following an altercation with Worcestershire batsman Ross Whiteley.
An England and Wales Cricket Board disciplinary commission said Panesar was twice involved in incidents where "his actions were potentially threatening and intimidating towards a member of the opposition".
Panesar added: "I wouldn't say I was either threatening or intimidating.
"But I will admit to becoming incredibly frustrated because I was having no luck at all, with inside edges and catches falling just short.
"I have to be aggressive when I bowl but it was a minor incident that I accept.
"The ECB and I have spoken about it and I must be mindful of my behaviour, but it's not seen as a problem by England."
It will be a third Ashes tour for Panesar, who played three Tests in Australia in 2006-07 but, barring injury, faces another tour as back-up for Graeme Swann, just as he was in 2010-11.
"I know there's a chance I might not get a Test match in Australia, and I'm sure I'll get some stick from the Aussie players and crowds, but I am determined to be eager, positive, supportive and ready if a chance comes my way," he insisted.
"I'm hoping I can be involved in a fourth consecutive Ashes victory and I'm very confident I will be, even if it's as a squad member."