Marcus Trescothick: Somerset batsman defiant on captaincy
Last updated on .From the section Cricket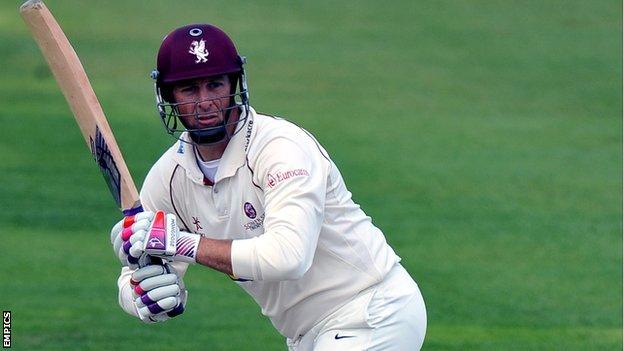 Marcus Trescothick has insisted he will not relinquish the Somerset captaincy despite a disappointing season.
The 37-year-old former England opener failed to score a century for his county this summer for the first time since 1998.
With Trescothick out of form, Somerset only narrowly avoided relegation from Championship Division One.
But the Taunton-born batsman told BBC Somerset: "I have no thoughts on not being captain."
Trescothick scored 804 runs in the County Championship this season at an average of 27.72 - 14 below his first-class career average.
And in an interview last week, ex-Somerset bowler Andy Caddick suggested his former team-mate should consider giving up the captaincy to rediscover his batting form.
However, Trescothick insisted: "It's never been a problem, so I'm not going to blame it on that this year. In the previous three years it's gone really well.
"I really enjoy being captain and still love doing the job. I want to continue doing it in the future.
"It's out of my hands in terms of what the club want to do, but I've still got a lot to give the team."
Somerset reached the semi-finals of the YB40 competition this year, but struggled in four-day cricket.
In Dave Nosworthy's first season in charge, they were involved in a relegation battle which ran to the penultimate day of the season, when their safety was guaranteed by Derbyshire's defeat against Warwickshire.
Trescothick admitted he was relieved the campaign is now over.
"I'm still enjoying what I do every day, but I am glad this season is done. It's been pretty tough and demanding, pressurising at times when you're trying to get your team through situations."
He added: "Of course, it's never fun being on the back end of poor results when you haven't performed yourself.
"I totally understand that, but I'll continue to work hard over the course of the winter to try and get it back for next season."