Adam Ball: Kent bowler eyes all-rounder role
Last updated on .From the section Cricket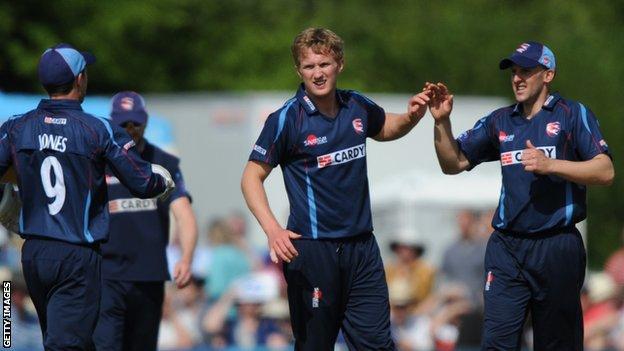 Kent bowler Adam Ball hopes he can establish himself as an all-rounder in the future.
"This year has given me a great opportunity to work on my batting and put my stake in for being a genuine all-rounder," he told BBC Radio Kent.
"Going forward, that's where I'd like to see myself fitting into the team - batting at six or seven in that genuine all-rounder spot."
He added: "Maybe I can take over from Stevo [Darren Stevens] when his time is up."
Ball made nine appearances for Kent in the YB40 this season but only featured in two County Championship matches, featuring in the last couple of games.
He scored 108 runs at an average of 36 and took three wickets at 56.66 - and admits he has had a "frustrating" 2013 season after time on the sidelines with a foot injury.
"I was happy to get the opportunity again," the former England Under-19 captain said. "I had six to eight weeks out in the middle of the season when I could have potentially played a lot of cricket in the Twenty20. That would have helped me to progress into the four-day stuff.
"I admit I haven't had the best year with the ball. Once I came back from my injury I found it quite tough getting back into it. Part of that is from a fitness point of view, in terms of having that six to eight weeks of doing nothing.
"You can't have it all your own way. The batting has gone well so I will try to take the positives.
"I have got plenty to work on with my batting and bowling and keep striving forward. Hopefully I will have a winter of hard work and come back even stronger next year."
Ball contributed 69 in a 148-run partnership with Stevens as Kent beat Division Two champions Lancashire in their final match of the season.
"It's quite nice to get through your first first-class 50," Ball said.
"I nearly got it when I made my debut [scoring 46 against Gloucestershire in 2011] and was a bit gutted not to get it then. It was good to get the opportunity again and make sure I went past that milestone.
"Batting with Stevo is a massive help to my game, having that experience at the other end helping me through.
"When there is that slight lapse in concentration he can bring you back to where you should be."