Ashes: Australia's Michael Clarke admits injury concern for first Test
Last updated on .From the section Cricket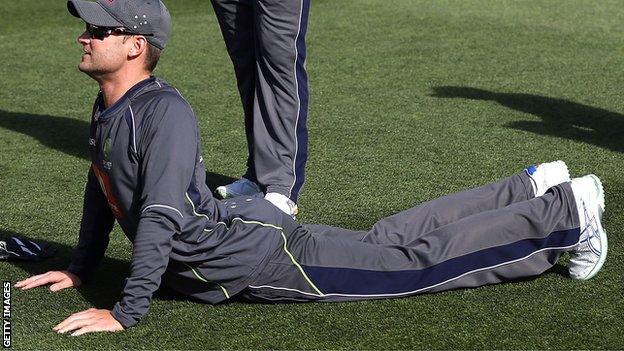 Australia captain Michael Clarke admits he is not certain to be fit for the first Ashes Test against England in Brisbane on 21 November.
Asked if he could miss the Gabba Test he said: "I'll say definitely not, but at this stage, we can't predict how long it's going to take to get right.
"I'm trying not to look at that. It's about being nice and positive."
Before the Ashes, Australia travel to India for one Twenty 20 international and a seven-match one-day international series, with the final game of the tour to be played on 2 November, just 19 days before the first Test.
England, who have won the last three Ashes series and completed a 3-0 win in the most recent edition of cricket's oldest contest earlier this year, land in Australia on 25 October but Clarke said there was no advantage for the tourists arriving ahead of the hosts.
"Every player's different. For me personally, the way to prepare for any series is to score runs in whatever form - it makes no difference," Clarke said.
"If I'm playing one-day cricket leading up to a Test series, it doesn't really make that much difference for me. My preparation is pretty similar. I bat in a similar way in one-day cricket as I do in Test cricket. We'll have time."
Meanwhile, Australia fast-bowler James Pattinson, who left the tour of England last summer after the second Test at Lord's suffering from a back stress fracture, has ruled himself out of the first two Tests, but believes he could be back for the third in Perth in mid-December.
"All things going well I could push for that Waca Test," the 23-year-old paceman said. "If it's a bit green we could play four quicks up there, but I'll know more when I start bowling."