Alex Hales: Nottinghamshire say IPL is key to new deal
Last updated on .From the section Cricket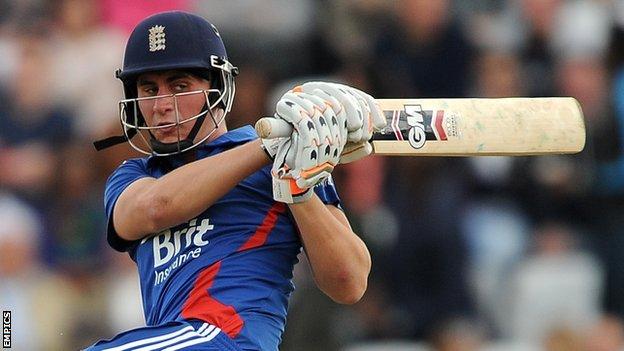 Nottinghamshire have to be flexible about releasing England batsman Alex Hales for the Indian Premier League, says director of cricket Mick Newell.
Notts banned the 24-year-old from taking part last year, but discussions are now ongoing about a new contract.
"We want to be flexible. What I said was never set in stone," Newell said.
Hales played in Australia's Big Bash with Melbourne Renegades this year and has since established himself as a feared international opener in the shortest form of the game.
He has had initial talks with Notts about a new deal and
Newell said the huge amounts of cash on offer for short-term stints playing T20 cricket meant it was totally understandable that Hales would want to be involved.
"The amount of money a player who is number one in the world is going to be offered to play in that tournament means it will be very difficult [for us] to continue to take a stance," Newell said.
"The IPL is a tournament played throughout April and May and, if that is the only cricket that he will play in during our summer outside of Nottinghamshire, then we will probably have to learn to live that.
"He is the type of cricketer who is very marketable and very attractive to the franchise teams around the world.
"In the next few weeks we will sit down and say 'we want to extend your Notts contract', but we have to be aware of the fact for part of the summer he doesn't particularly want to be here - and are we happy with that and is he happy with that?"