Afghanistan beat Kenya to reach first World Cup
Last updated on .From the section Cricket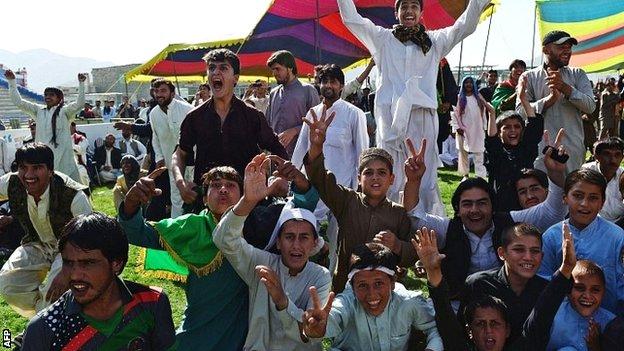 World Cricket League, Sharjah: Afghanistan 96-3 (20.5 overs) beat Kenya 93 (43.3 overs) by seven wickets
Match scorecard:
Afghanistan will play in the World Cup for the first time in 2015 after beating Kenya by seven wickets in their final qualifying match in Sharjah.
The country - one of the world's poorest and affected by decades of conflict - only received associate status, the second tier below Test nations, earlier this year.
They reached a target of 94 to finish second behind Ireland in the World Cricket League and will be in England's group at the World Cup, which is being held in Australia and New Zealand.
Their first match in the competition will be against Bangladesh in Canberra on 18 February 2015 and they will also face Sri Lanka, Australia and New Zealand before taking on England in Sydney on 13 March.
Needing a win to move above United Arab Emirates and Netherlands, Afghanistan's bowlers restricted Kenya well, with only Morris Ouma and Rakep Patel reaching double figures.
Skipper Mohammad Nabi, in his 27th one-day international, steered them to victory with an unbeaten 46 that featured three fours and two sixes.
In the 20th over, the 28-year-old thumped a six over long-on and in the next dispatched slow left-armer Shem Ngoche out of the ground. He struck the historic winning runs two balls later with a four through mid-wicket.
"I can't express my feelings," Nabi said. "It is a very big day in my life. I'm sure there will be huge celebrations back home. I'm happy for the people of Afghanistan and look forward to playing in Australia and New Zealand.
"I didn't expect to play in a World Cup when I started playing cricket. But now I can cherish this moment and look forward to playing against the best sides in some of the best playing facilities. Playing in a World Cup will be one grade up and we'll try to work hard and do better."
Afghanistan coach Kabir Khan, the former Pakistan left-arm seamer who played four Tests and 10 ODIs from 1994-2000, said: "I'm lost for words. This is the best day of my coaching career. I had very few great and memorable days in my life and this is right up there. It has been a dream for so many years and now we have achieved it.
"There will be tremendous atmosphere in Afghanistan and I'm so happy for them. This year they'll get two Eids [Muslim holidays] to celebrate."
Two more associate nations will qualify for the tournament in a play-off competition in New Zealand next year.
The Netherlands and the UAE will compete with Scotland, Kenya, Namibia, Canada, Uganda, Hong Kong, Nepal and Papua New Guinea - the latter led by Kent and former England wicketkeeper Geraint Jones, who was born there.
Afghanistan were playing in Division Five of the World Cricket League as recently as 2008.
In 2010, they reached the ICC World Twenty20 in the West Indies by winning a qualification event in UAE, but lost both group games in the tournament to India and South Africa.
They also qualified for last year's World Twenty20 in Sri Lanka after finishing second to Ireland in qualifying, but were beaten by both India and England in the opening group phase.