Steve Harmison: Former England fast bowler retires
Last updated on .From the section Cricket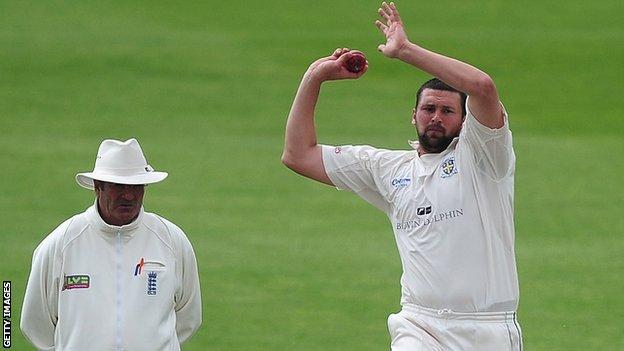 Former England fast bowler Steve Harmison has retired at the age of 34.
Harmison spent 17 years at Durham but did not play a first-team game in this summer's County Championship-winning campaign, and his contract has expired.
He took 222 wickets in 63 Tests for England at an average of 31.94 and played in 58 one-day internationals and two Twenty20s internationals.
"I have been thinking about retiring for a long time," Harmison told BBC Radio 5 live.
"At the start of this season I got a pretty bad hamstring injury and I knew then that that was it.
"I wanted to wait to announce it though as Durham were going so well. I knew that if I retired people would have been talking about my career instead. So I didn't want a good young side having that hanging over them."
He added: "But I want to stay in the game, as I feel I have a lot to offer.
"In my career I've had the upmost highs and some downright lows - physically and mentally - and probably bowled some of the best and worst balls ever.
"So if I can be of any help to anyone then I'd love to do so."
Harmison's exit means Simon Jones is the only member of England's 2005 Ashes-winning seam attack left playing.
Andrew Flintoff quit the game in 2010 because of persistent injury problems and Harmison's regular new-ball partner for England, Matthew Hoggard, retired last month.
"I was hoping to go out on a high in my benefit year but my body has not allowed me to, and I have not made a single first-team appearance," Harmison told the Sunday Sun.
Harmison made his England debut against India at Trent Bridge in 2002 and also played for a World XI team in a Super Series Test against Australia in Sydney in October 2005, which counted towards his overall total of 63 Tests and 226 wickets.
At his best, Harmison could be a fearsome opponent, as Australia found out on the opening morning of the Ashes series at Lord's earlier that year, when he struck opener Justin Langer a painful blow on the elbow and then bloodied skipper Ricky Ponting with another rising delivery that hit him on the helmet.
England won the series 2-1 to claim the Ashes for the first time since 1987, but it was a very different story when the teams met again in 2006-07, with Australia triumphing 5-0.
Harmison's opening delivery of the series in Brisbane was so wide it was caught by Flintoff at second slip, and some pundits believed that set the tone for England's dismal tour.
Although he produced his best figures of 7-12 in Jamaica in 2004, when England bowled out West Indies for just 47, he found touring difficult because of homesickness and once admitted: "I don't like travelling full stop - that's just me and I'll never change."
When the Ashes were contested again in England in 2009, he played in only two of the five Tests in what proved to be his last series as an international.
His final first-class appearance came at Leicester in July last year during a loan spell with Yorkshire.
Last winter, Durham head coach Geoff Cook said Harmison's future was "in his own hands" ahead of the final year of his contract.
However, he did not play any part as Durham won the County Championship for the third time in six years.