Ashes: Steve Harmison expects conditions to suit England
Last updated on .From the section Cricket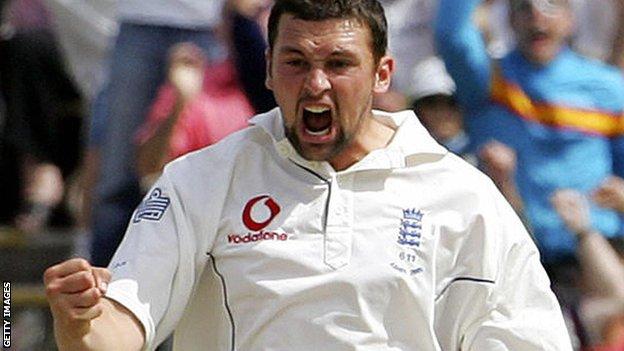 Former England paceman Steve Harmison believes Alastair Cook's side will be victorious in the winter Ashes series whatever the conditions in Australia.
England, who beat Australia for the third successive series this summer, will arrive in Perth later this month.
"On flat pitches when the ball is soft, the skills come out, and when it comes down to it, I think England have better players," Harmison told BBC Sport.
"I'm convinced England will come back with the Ashes again."
The 34-year-old, who retired from all forms of cricket last weekend, played in four Ashes series between 2002 and 2009.
Although twice an Ashes winner on home soil, Harmison was a member of a beaten squad in 2002-03 and 2006-07.
His Test career was over the last time England played down under in 2010-11, when they ended a 24-year wait for a win in Australia, taking the series 3-1 to retain the urn.
The responsibility for repeating that victory has been placed in the hands of a towering bowling attack, featuring three fast bowlers - Chris Tremlett, Steven Finn and Boyd Rankin, who all stand 6ft 7ins tall.
Harmison believes that may force Australia into a rethink of the type of pitches they prepare for the five Tests, but whatever the playing surfaces, he is confident England will adjust.
"Now England have picked a squad where the ball is going to bounce, I would be amazed if Australia put on hard, bouncy pitches," he said.
"The simple fact is you have got Michael Clarke, Shane Watson, Phillip Hughes and Steve Smith - who have done well in Australia - all four of them struggle to play the bouncing ball and we have got 6ft 6 and 6ft 7ins bowlers going over there.
"I'd be surprised if we play on anything other than Perth that bounces more than what the English selectors are predicting."
Uncapped Rankin was preferred to Harmison's former Durham team-mate Graham Onions, who will instead spend the winter playing first-class cricket in South Africa with KwaZulu Natal Dolphins.
"When you talk about the conditions Graham Onions has been unlucky for a lot of reasons," said Harmison.
"I think Onions will play a part in the Ashes if there's an injury, he will definitely play before someone like Boyd Rankin.
"Boyd's there for experience because I think they want to push him forward and get him to take over the tall bowler's mantle when the time is right.
He added: "Graham is going to go South Africa and play some first-class matches before the first Test so if there are any injuries he will be in a prime position to come in and I think they had that in mind when they came to select the squad."