Hampshire: New signing Will Smith rules out captaincy
Last updated on .From the section Cricket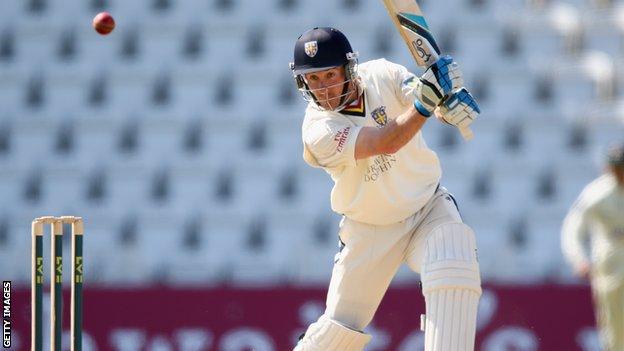 Hampshire's new signing Will Smith says he is not heading to the Ageas Bowl intent on being the club's new captain.
Smith, who skippered county champions Durham during his time with them, has been brought to Hampshire to bolster the top order.
But he says replacing Jimmy Adams as captain is not part of the deal.
"Jimmy is the captain and a huge reason as to why I moved here because I respect him as a man, a player and a captain," Smith told BBC Radio Solent.
"Jimmy has directed the club so well and if I can help in a small way then that will be what I want and desire but there has been no conversation with that respect."
Smith, 31, said he had other options after being released by Durham in September, but felt Hampshire was the right county for him
"There were a couple of counties interested but once I knew Hampshire were concrete there was no choice it was a no brainer," he continued.
"The progressive nature of the club, the development of the ground, the young squad and the rock-solid characters of Giles White and Jimmy Adams. Every time I've met them I've been nothing but impressed. It was a simple decision."
Smith, a batsman and occasional off-spinner, began his career with Nottinghamshire where he played in the Championship-winning team of 2005.
He joined Durham in 2006, and was part of the first team in the club's history to win the Championship in 2008 before leading them to a second successive title 12 months later.
Smith believes Hampshire is the right move for this stage of his career.
"I'm just about to hit my peak as a batsman and coming to a fairly decent batting wicket, so I'm delighted, it was an easy decision," he added.
"I'm really excited and hopefully we can get the four-day team up to where it belongs."
Hampshire were relegated to Division Two of the Championship in 2011 and this summer finished fourth, 32 points short of a promotion place.