Ashes 2013: Hot Spot 'dropped for series down under'
Last updated on .From the section Cricket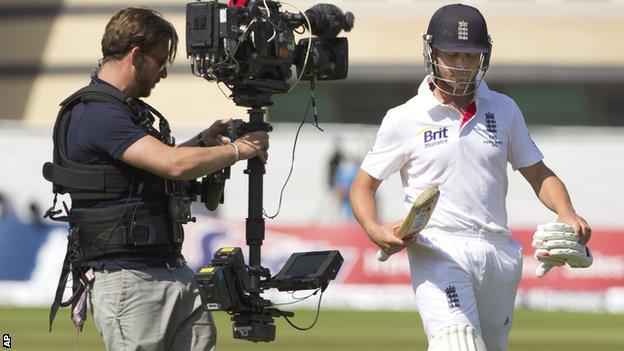 Hot Spot will not be used in this winter's Ashes series in Australia, says the inventor of the infrared camera technology used to detect edges.
Host broadcaster Channel Nine chose to drop the controversial system after concerns over its cost and reliability.
"It's their decision and that's what has been communicated to us," Warren Brennan told the Sydney Morning Herald.
The International Cricket Council said it was a matter for Channel Nine and Cricket Australia to resolve.
The England and Wales Cricket Board (ECB) is aware of the reports and is considering its response. The governing body was not contacted in advance of the decision.
England coach Andy Flower and captain Alastair Cook have consistently backed the use of technology in the decision review system (DRS) and expressed a desire to improve it, rather than dispense of any of its components.
The absence of Hot Spot means television umpires will be restricted to using Eagle Eye ball-tracking software, audio from stump microphones, and slow-motion replays when England or Australia review an umpire's decision during the Ashes, which begins on 21 November in Brisbane.
Hot Spot was devised in 2007 by BBG Sports and works using heat sensors and infrared cameras to determine what the ball has made contact with.
But it came under scrutiny during England's 3-0 Ashes victory over the summer when several faint edges appeared to go undetected, with Brennan claiming that the protective tape on players' bats was diminishing the effectiveness of his system.
The host broadcaster and the governing body finance the cost of using Hot Spot, which is almost £6,000 per day according to Cricinfo.
Brennan told BBC Sport that Australia television had decided not to pay for the system after an increase in television rights costs.
He said: "Unfortunately, with Channel Nine paying double the amount in rights fees to Cricket Australia for their new broadcast agreement, then there was always going to be less funds available in the kitty for development of technology.
"Instead, BBG approached Cricket Australia to request that they also contribute to Hot Spot costs - in addition to Channel Nine's input. Unfortunately, Cricket Australia refused to engage with BBG in any shape or form apart from an initial phone call saying that this was a Channel Nine and ICC matter.
"This disappointed BBG greatly as the cricket boards in England, New Zealand and South Africa all contribute to Hot Spot costs in addition to the local broadcasters.
"BBG completely accepts and understands Channel Nine's decision in regard to this matter. Conversely BBG finds it difficult to understand Cricket Australia's stance on the matter."
Brennan added that his company are continuing to develop the product.
He said: "The critical point in regard to this matter from BBG's perspective is to continue to undertake research and development to improve the Hot Spot product.
"What I learned out of the UK this year is that the system needs to be improved continually.
"There's new technology coming out all the time. And as we can see from everyday instances - from our mobile phones - things improve dramatically month by month, year by year."
A Cricket Australia spokesman was quoted as saying: "We don't think it's appropriate to comment on discussions between Nine and one of its partners."