Sachin Tendulkar retirement: Tributes to India legend
Last updated on .From the section Cricket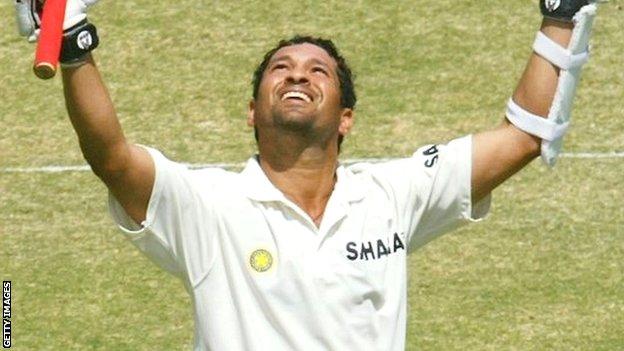 India's batting hero Sachin Tendulkar, 40, has announced he will retire from all forms of cricket after making his 200th Test appearance next month.
Leading cricketers and other big names have paid their tributes to international cricket's leading run-scorer.
Sunil Gavaskar, legendary former India opener: "It is hard to imagine any player in the history of the game who combines classical technique with raw aggression like the little champion does. There is not a single shot he cannot play."
Shane Warne, second-highest Test wicket-taker: "Sachin Tendulkar is, in my time, the best player without a doubt - daylight second, Brian Lara third."
Kapil Dev, former India World Cup-winning captain: "It's a sad day but everyone has to go one day. He has given happiness to millions and millions of people and has never been controversial."
Graeme Smith, South Africa Test captain: "It's always difficult to comprehend how someone like Sachin lives his life. He has always managed his career well, managed to perform under extreme amount of pressure and never had any scandals, which is a credit on him and his family."
Sourav Ganguly, former India captain: "Don't just think about the talent that he had, because he was born with that. It is the effort that he has put in which is for all young cricketers to emulate. He had all the shots in the world."
Muttiah Muralitharan, Test cricket's leading wicket-taker: "It's the right time for him to retire - after 200 Tests. Pressure for him has always been more than for anyone else because people expected him to score a century every time he went out to bat."
Krishnamachari Srikkanth, former Indian captain and selector: "All of us are going to miss Tendulkar. His career has been amazing. I hope he goes out with flying colours with a hundred in his last Test. I was fortunate enough to be his first captain [in international cricket]. I still remember him talking to me in a calm and cool manner then and even today he remains that same, simple human being."
Gautam Gambhir, India batsman: "Salutes to Sachin paaji. I think India jersey number 10 should retire as well and preserved forever. Thanks Paaji."
Irfan Pathan, India pace bowler: "Not being able to play alongside him or not seeing him play in the future sounds scary."
Tom Moody, former Australia all-rounder and Sri Lanka coach: "Time waits for no-one as Tendulkar prepares to say goodbye, been a privilege to play & coach against the little master, one of the greats!"
Sanjay Manjrekar, former India batsman, turned commentator: "Privileged to have seen a child prodigy go on to become a true legend of the game from very close quarters. All the best Sachin."
Aakash Chopra, former India opening batsman: "Great player and a brilliant human being. Thanks for the memories, Paaji. Privileged to have shared the dressing room with you."
Eoin Morgan, England batsman: "Sad to hear the greatest ever batsman is calling it a day. One man who inspired a nation."
Monty Panesar, England spinner: "Greatest batsman retires, Sachin Tendulkar. The Master brought a lot of happiness globally."
James Anderson, England pace bowler: "When you were in the field and watching him it was quite amazing. The stats speak for themselves, he is one of the best players that has ever been."
Michael Vaughan, former England captain: "One of the greatest ever, Sachin Tendulkar, is retiring. One of my heroes and an absolute joy to play against."
Ian Bishop, former West Indies fast bowler: "The sight of the straight lines of the bat on its downswing; the power of the back foot punch; thanks for the memories Sachin. Glad you came."
Damien Fleming, former Australia pace bowler: "Best batsman I bowled to - at his peak no weakness."
Gary Lineker, former Tottenham and England footballer: "One of the truly great batsmen of all time is retiring from cricket. Sachin Tendulkar has had a good innings... lots of them."
Shah Rukh Khan, Bollywood actor and Indian Premier League team owner: "Oh no! Suddenly realised the meaning of addiction. Mine was the Master. I am going through cold turkey. To see cricket without Sachin? Unbearable."
Abhinav Bindra, India's shooting Olympic gold medallist: "Don't really know what to say about Sachin. Everything will fall short. Just wish him the very best for his next innings."
Jitendra Singh, India's Sports Minister: "Sachin Tendulkar is an extraordinary sports icon who will continue to inspire Indians and all sports lovers to achieve excellence in sports. The Ministry look forward to working with Sachin Tendulkar to promote sports in the country."