Ashes 2013: No-one trusts Hot Spot, says Andrew Strauss
Last updated on .From the section Cricket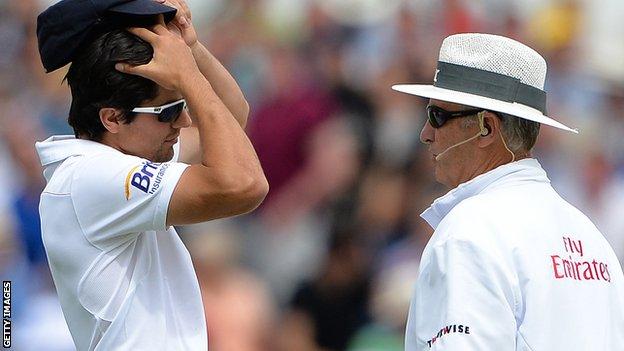 Former England captain Andrew Strauss has backed the decision to drop Hot Spot for the Ashes in Australia, claiming "no-one trusts" the system.
"Hot Spot just creates confusion," Strauss told BBC Radio 5 live.
"Sometimes it shows up, sometimes it doesn't, so no-one really trusts it."
The fallibilities of Hot Spot, which forms part of the decision review system (DRS) in international cricket, were exposed this summer when several faint edges went undetected.
"Hot Spot is not 100% conclusive," added Strauss, who captained England to victory in the 2009 and 2010-11 Ashes series before retiring from the game last year.
"If you're going to use technology, you want to make sure that it's giving you a definitive answer, one way or the other."
Strauss's criticism was accepted by Hot Spot inventor Warren Brennan, who is currently working on ways to improve his system's reliability.
"I can see why he says that," Brennan told BBC Sport. "There were three to six decisions that people felt were wrong and the Snickometer suggested those decisions were wrong.
"People may have lost faith in Hot Spot but there were more than 10 good Hot Spot decisions in the series as well. The umpire gave [them] out and Hot Spot overturned [them].
"There is good and bad but people do tend to suggest things should be 100%. Conversely they seem to spend more time worrying about things that go wrong than what goes right."
Brennan said he hoped to be able to introduce new high-definition cameras next year that would improve Hot Spot's accuracy.
His company BBG Sports has also developed a Real-time Snickometer, which is being assessed by the International Cricket Council before potentially forming part of DRS.
"The combination of those two products will improve faint-edge detection," added Brenann. "We're not going to give up - we want to continue to improve."
Meanwhile, Strauss has backed away from reopening his dispute with England batsman Kevin Pietersen over the Indian Premier League.
On Thursday, Pietesen retweeted a posting from broadcaster Piers Morgan which accused Strauss of "cheek" for writing in his new autobiography that England players should be permitted to play in the IPL.
In a messy summer that saw Pietersen dropped for sending text messages to opposition players and Strauss stepping down as captain, Strauss and Pietersen clashed last year over the latter's desire to play a fuller part in the lucrative competition.
Strauss denied he was being hypocritical. He said: "The point I was trying to make is I think there should be a window for the IPL, I think the ECB should look to create that.
"But until there is a window, there's no way. It creates a horrendous precedent if someone misses a Test match to play in the IPL.
"Kevin's doing his own thing, he's got his own issues and his own thoughts, and I'm sure one day he'll write a book and he'll have his own point of view on everything that happened last summer, and that's fine.
"Do I really want to enter a war of words with Piers Morgan or Kevin Pietersen? No. Life's too short, let's move on."