David Sales: Northants veteran signs new one-year deal
Last updated on .From the section Cricket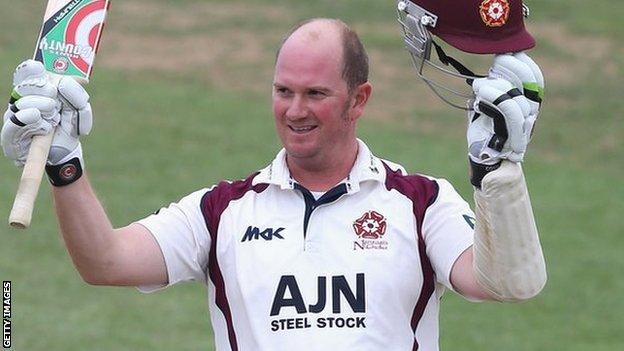 Batsman David Sales has signed a new one-year deal with Northamptonshire.
The 35-year-old, who averaged 45.95 and scored three centuries as Northants won promotion to Division One this summer, will enter his 20th year at Wantage Road with the contract.
Sales told BBC Radio Northampton: "It's been quite a while since we were last in that league and the opportunity to test myself is very exciting.
"We're not going to make the numbers up - we'll be trying to win it."
Sales has spent his entire career with Northants, having joined the county in 1994.
And he insists this year's FLt20 trophy winners must have the right attitude in next term's County Championship, adding: "If we go up there looking to survive, we'll come straight back down again."
This year is the third time Sales has been involved in a promotion-winning side with Northants, achieving the feat in 2000 and 2003, and he says he is proud of his achievements with the county.
"You don't get employed if you're not consistent enough," he said.
"It's been a great journey, I've a lot of fond memories and it's been fantastic to play for this long. It doesn't happen that often in the County Championship.
"I'm very proud of what I've achieved and I'm still enjoying the battle."
Northants head coach David Ripley says Sales' experience will be valuable in Division One next season.
"He's racked up a lot of first-class runs," he said.
"He's also been able to contribute in the one-day formats and he'll be in consideration for that. But there's no doubt, in Division One, needing that little bit more experience and quality, it'll be up to other lads to try to shove him out of the way to get the spot."
Ripley also confirmed that Northants are still hopeful of recruiting two more players for next season, having already secured Maurice Chambers from Essex.
"We're making some progress on a left-arm spinner," said Ripley. "We expect something on that hopefully by the end of this week.
"With the overseas player, it's not a straight-forward process but we're already quite a way down the line with a seam bowler for the first three months of the season."