Dave Nosworthy: Somerset boss reflects on 'tough' season
Last updated on .From the section Cricket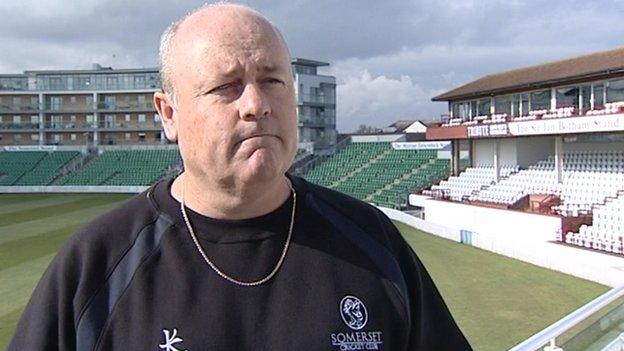 Director of cricket Dave Nosworthy says Somerset will learn from their "tough" relegation fight this season.
In 2012, the Taunton club finished runners up in the Championship.
But in Nosworthy's first term in charge this year, their Division One status was only secured on the penultimate day of the Championship campaign.
"It's been tough. Some people are saying the honeymoon is over now. If that was the honeymoon, I'd hate to be married," Nosworthy told BBC Somerset.
"It has been tough but at the same time I've learnt a lot. I'm sure the guys have also learnt a lot from going through it, compared to what we've been used to.
"Some of the worst times of adversity are when you learn the most. A lot of lessons have been taken from this season and hopefully in the off-season we can put in to place what needs to be put in place."
Under Nosworthy's predecessor Brian Rose, Somerset won the Twenty20 Cup, secured promotion to Division One and reached the knock out stages of both one-day competitions for three consecutive seasons.
Although their limited-overs game continued in the same vein this year - they reached the semi-finals of the YB40 and quarter-finals in the FLt20 - their four-day form faltered.
They won three and drew eight of their 16 games to finish sixth in the standings, and the performances of their top-order batsman - including captain Marcus Trescothick and England's Nick Compton - were called in to question.
And Nosworthy, 45, revealed that they plan to change their style of play for next season, in order to keep their batsman at the crease for longer periods.
"The runs were there this season but they were inconsistent. It was a concern that no one stepped up to stop the domino effect of the collapses," said the South African.
"From a batting point of view, our style is very adventurous and positive, but it's a high risk.
"That's not just this season, I've looked back on these last few seasons. There's definitely a style of playing more aggressively.
"For me, there could be a better work ethic in terms of the amount of balls hit. It's something we're going to look at in the off-season and we're looking for specialist coaches to assist us.
"You need guys to occupy the crease and bat for longer periods. Don't get me wrong, I'm a fan of players showing flair and I'm not looking for boring cricket, but we need a better balance."