Kent: Geraint Jones recognises Sam Billings competition
Last updated on .From the section Cricket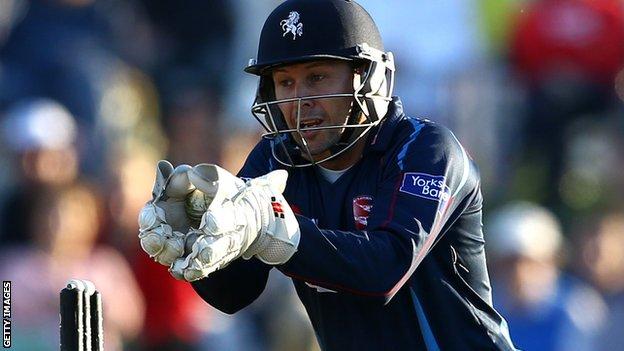 Kent wicketkeeper Geraint Jones says he faces direct competition from Sam Billings for the gloves next season.
Billings replaced the 37-year-old in the final two County Championship games of the campaign.
Jones told BBC Radio Kent: "I have got a battle on my hands for pre-season next year. It is time to pull my socks up and work even harder.
"It is a shoot-out and, in a way, how we show up will dictate who gets the nod at the start of the season."
He added: "Whenever I have been given a deadline date like that I have thrived on it and relished that.
"Whatever point in March we are back in pre-season is a big date in my calendar.
"I am not looking at it negatively and I am looking to make it a real driving force to enhance the finishing of my playing career."
Jones, who played 34 Test matches for England, was replaced after a scoring just 403 runs at an average of 23.70 in 14 appearances in Division Two.
The Papua New Guinea-born player, who was dropped for the start of the FLt20 tournament, described his year as "pretty average".
"It's probably been my worst year in a Kent shirt for output," he said,
"I couldn't put my finger on what was causing the lack of runs as I was getting the starts all the time. One mistake or little thing was costing me my wicket.
"It just wasn't happening in the middle and it was frustrating as anything.
"Being left out of the last two games was fully understandable as I hadn't scored the runs I had wanted to."
Jones has one year left on his deal at Canterbury and has previously spoken of his ambition to play into his 40s.
He is wary he must work on his game over the winter, which he will spent two months playing one-day cricket with Papua New Guinea, to prolong his spell at the St Lawrence Ground.
"Nothing has changed physically and mentally I am more driven to get back into the team," he said.
"Ultimately next year, performance wise, will dictate whether Kent want to keep me on further than that.
"It is vitally important I use my winter well to address and look at what I did this summer and caused me not to score the runs.
"It won't be a lot of change as the way I have been playing for the last seven years has brought me success. It is not about completely re-hashing my technique.
"It is about working smarter and getting myself ready for pre-season."