Ashes 2013: Jonathan Trott rejects Darren Lehmann criticism
By Sam Sheringham
BBC Sport
Last updated on .From the section Cricket
England batsman Jonathan Trott has brushed aside criticism from Darren Lehmann, suggesting the Australia coach has little to shout about after his team's recent 3-0 Ashes defeat.
He also claimed his team had "made inroads" into Trott's mind ahead of the return series down under, which starts in Brisbane on 21 November.
"I'd take another dour 3-0 in Australia," Trott, 32, told BBC Sport.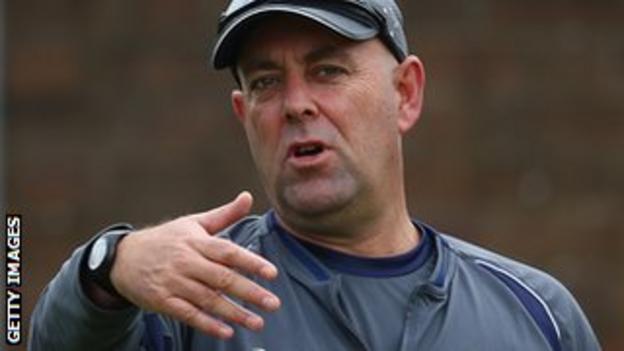 "I know Australians are a confident bunch of guys, but they've lost the Ashes series and they are making comments already.
"That's just the Australian way, that's how they are - I think we go about our cricket a little bit differently."
Lehmann's outspoken views were a feature of the Ashes series in England over the summer.
In an interview with an Australian radio station, he accused England bowler Stuart Broad of "blatant cheating" for not walking when the umpire failed to spot an edge in the first Test at Trent Bridge - a comment for which he was subsequently fined by the International Cricket Council.
Trott contrasted the former Yorkshire and Australia batsman's manner with the more reticent style of England team director Andy Flower.
"I look at it this way. Our head coach isn't on Twitter, their head coach is," he said.
The Warwickshire right-hander also made a passionate defence of the right of South Africa-born players such as himself to play for England.
Last week, England footballer Jack Wilshere reopened a divisive issue by stating that only home-grown players should be eligible for the national side.
The comments drew an angry response from Trott's England team-mate Kevin Pietersen, who was also born in South Africa but qualified to play for England after serving a period of residency.
Trott, who holds a UK passport because of his English father but did not move to England until the age of 20, said he is proud to represent his adopted nation.
"Everyone in that changing room knows that when I'm batting or Kevin is batting, nobody wants to score more runs for England than the two of us," he said.
"The pride and the honour that we have every time we pull on an England shirt and walk out to bat should be good enough for anyone.
"Just because our accents aren't the same as the people who make these comments, it doesn't mean we want it less.
"I grew up in South Africa, but I always had a British passport, I never really had a South African passport.
"I remember coming with a touring team to England, I walked straight through immigration with my British passport, and I was in WH Smiths before the rest were through the immigration lines."
Trott, who averaged only 29.30 during the recent Ashes series, denied that Australia had found a method to get him out and vowed to improve on his return when hostilities resume at the Gabba next month.
"When you don't score runs people like to think they've worked you out, but sometimes that's cricket, things just don't go your way," he added.
"I've been working really hard to put a few things right technically and work things out and make sure I get to Australia playing really well."