Graeme White: Northants re-sign spinner from Notts
Last updated on .From the section Cricket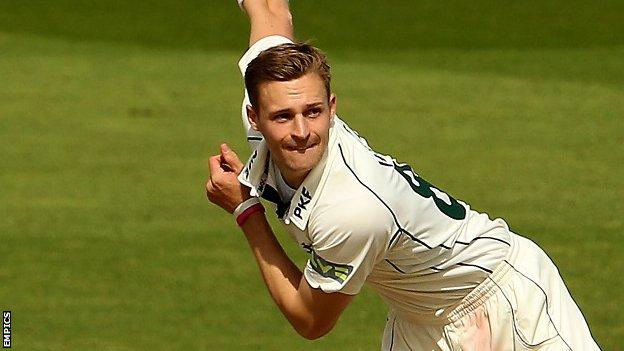 Northants have re-signed their former left-arm spinner Graeme White from Nottinghamshire on a two-year contract.
The 26-year-old began his career at Wantage Road and had two loan spells there last season, taking seven wickets in three FLt20 games.
He also recorded Notts' best T20 figures of the summer of 5-22.
White told BBC Radio Northampton: "At Notts we decided that for me to play more cricket in all forms, Northants would be a great option for me."
He continued: "It's sad in a way because I loved my time at Nottinghamshire. It was a big decision to make but the right one, I think, for my cricket.
"Northants has changed a lot since I left. I've been so impressed with how things have been set up and run.
"With David Ripley in charge and Stephen Peters and Alex Wakely as captains, they've got the respect of the players.
"It's a very strong squad. I'm looking forward to coming into that and trying to help them in four-day and one-day competitions."
Northants have already recruited Essex fast bowler Maurice Chambers and club chief executive David Smith has indicated they have also agreed terms with an Australian Test bowler to take the place of former overseas professional Trent Copeland.
"He isn't a household name, but neither was Trent Copeland, who was exceptional for us this year," said Smith.
"The individual has played two or three Test matches for Australia, but we think he'll be a very good bowler in English conditions."
Northants have had one of the most successful years in their history, achieving promotion to Division One of the County Championship and lifting their first short-form trophy for 21 years after winning the FLt20 final.
"People want to be associated with a Division One club, and winning the T20 has been a big plus for us," said Smith.
"It's helped with player retention and helped us with getting in new players, which is important to spice things up a bit.
"The summer we've had has put us on the front foot in terms of interest from players and agents. We've got to build on that - we've still got a lot to do at the club. But it's certainly a good time at the moment."