Northants: Rob Keogh and Rob Newton sign new contracts
Last updated on .From the section Cricket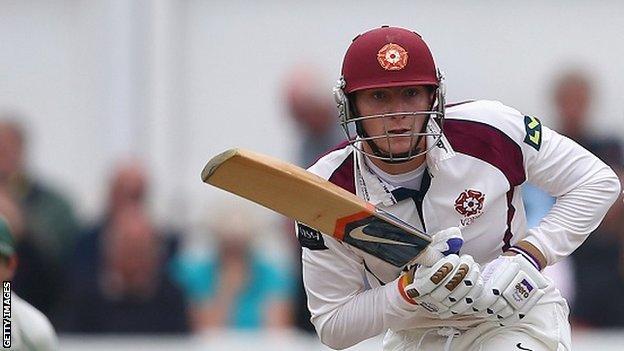 Northants batsmen Rob Keogh and Rob Newton have signed new contracts with the promoted county.
Keogh, 21, has signed a two-year contract, with the 23-year-old Newton agreeing a three-year deal.
Keogh made 458 Championship runs in eight games last season, including a vital double-century against Hampshire.
Newton started the campaign strongly, scoring 251 runs in six matches before injuring his ankle in a one-day match against Kent in June.
Head coach David Ripley told BBC Sport: "Rob Keogh took some big strides forward at the end of last season.
"The double-hundred against Hampshire after we were 32-4 on a green wicket speaks for itself, but he backed that up against Worcestershire in the Championship, and also in the YB40.
"He marks himself hard, but I think he's shown himself what a good player he is. He's a local lad who has been coming to the club since he was 14, and it's good to see him taking his game to a higher level.
"Rob Newton is a destructive player in all formats of the game. He was in the last year of his contract last season and understandably wanted to see where we were as a club, but he saw enough before he was injured to know he wanted to be part of what we were doing.
"He's one of a group of young players who've come through the academy and want to be competitive."
Twenty-year-old batsman James Kettleborough, who did not play for the first team last season, has also signed a new one-year deal.
Earlier this week the club confirmed that experienced top-order batsman David Sales had also agreed a new one-year contract.