Ashes 2013-14: The making of England spinner Graeme Swann
By Sam Sheringham
BBC Sport
Last updated on .From the section Cricket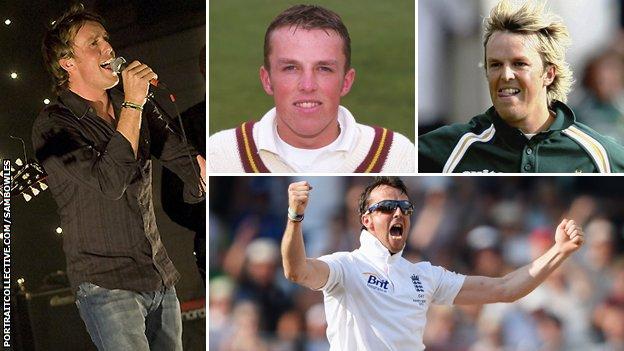 For many a year, the only Ashes spinner worthy of mention was a portly blond Australian who went by the name of Shane.
Time after time, Warne picked apart England's batting order with surgical precision during a period of near-unblemished Australia dominance.
Now, with England firmly on top in cricket's oldest rivalry, it is they who boast comfortably the most influential spin bowler on either side.
In fewer than five years of Test cricket, Graeme Swann, 34, has taken 248 wickets, including 26 in England's 3-0 Ashes victory last summer - their third consecutive triumph over Australia.
Off the field, he is England's most charismatic cricketer since Andrew Flintoff - a natural showman and practical joker whose quirky video diaries during the 2010-11 Ashes attracted more than a million online views.
On the eve of his fourth Ashes series, BBC Sport has been tracing Swann's life from childhood, speaking to those who know him best and have influenced him through his career.
Together they paint a picture of a man whose appetite for fun and frolics belies a steely determination to drain every last drop from his talent.
Childhood cheek
The sons of a PE teacher and amateur cricketer, Graeme and older brother Alec were indoctrinated in the joys of leather on willow from an early age during their upbringing in the environs of Northampton.
"Dad used to play at a club called the Old Northamptonians," recalls Alec, who played 77 first-class matches for Northamptonshire and Lancashire as a batsman between 1996 and 2004.
"We would just tag along with our bat and ball. There was so much space that we could be left to our own devices.
"We would spend all day in the nets behind the sightscreen. He'd bowl at me, I'd bowl at him and once dad was out and had calmed down he'd come and chuck it around with us too. We'd do that every Saturday and a few Sundays, making sure we were home to mum once it was time for tea.
"When we weren't playing sport, Graeme was hyperactive. He was unable to sit still for any length of time and had a very short attention span.
"His extrovert character came out when we went to secondary school. I was a couple of years older than him and if he ever saw me he would always be taking the mickey out of me and my mates. He was never shy in making a comment here and there about girls or whatever it may be.
"In class he liked to give the impression that he wasn't too fussed, and if there was ever a comment to be made he'd be the one making it.
"By the time he was 15 he had made up his mind that cricket was what he wanted to do."

'Oil and water'
Having excelled at junior levels, by the late 1990s the Swann brothers were playing alongside each other in the Northamptonshire first team.
Graeme's mentor during his formative years in county cricket was Northants second XI coach Nick Cook.
"Graeme was full of confidence and spun the ball a long way from a very early age," says former left-arm spinner Cook, who played 15 Tests for England in the 1980s. "But he could always see the funny side of things."
"He is a great mimic - he would take the mickey out of people's accents. If you closed your eyes, you would think [former Northants and England batsman] Rob Bailey was in the room.
"He could do impersonations of how people bowled, batted or how they spoke. You could understand why people wanted to clip him round the back of the ear, but what a person to have in the dressing room."
Swann's form for Northants earned him an England place on a tour of South Africa in 1999-2000, only for his tardiness and laid-back demeanour to irk coach Duncan Fletcher so much that he was dropped after a single one-day international.
When former South Africa captain Kepler Wessels became Northants coach in 2003, he took a similarly dim view of Swann's personality.
"Kepler was cut from the same cloth as Fletcher and didn't take well to Graeme's cockiness and sense of humour. They were like oil and water and they fell out badly," says Cook.
"For all his natural ability, Graeme needed a bit more responsibility, a bit more focus."
Knuckling down at Notts
Out of favour at his county and with little prospect of an England recall, Swann chose to move to Nottinghamshire in 2005, where he blossomed under the tutelage of first-team coach Mick Newell.
"When he first came to us, he was very disorganised, his time-keeping wasn't great and his attitude to training was very light-hearted," says Newell.
"But our captain Stephen Fleming impressed on Graeme the need to tidy up his off-field life if he was going to make the most of his talents.
"Swann respected Fleming and I think he realised that he needed to be much more disciplined if he was going to play international cricket."
Gradually the new approach bore fruit, and when Fletcher was replaced by Peter Moores as England coach in 2007, Swann was drafted into the England one-day side.
He played a major part in England's 3-2 victory in Sri Lanka and, after a successful 2008 season with his county, was picked for the Test tour of India.
What followed has gone down in cricketing legend as Swann claimed the prize scalps of Gautam Gambhir and Rahul Dravid to become only the second bowler to take two wickets in the first over of his Test career.
In one breathtaking manoeuvre, Swann had overtaken Monty Panesar as England's first-choice spinner, and in the five years that have followed, he has barely paused to look in his mirrors.
"Swann got in there quite late so he is making the most of the opportunity that has been provided to him," adds Newell.
"He is very much self-taught. He's developed his own skills and worked his way to the top.
"He certainly loves the lifestyle of an England cricketer. There's far more media attention and glamour attached to it than in county cricket and I don't think anyone could say he shies away from that.
"When he stops playing for England, I don't think you'll see him trudging around on the county scene. You are far more likely to see him on the telly at tea-time on a Saturday night."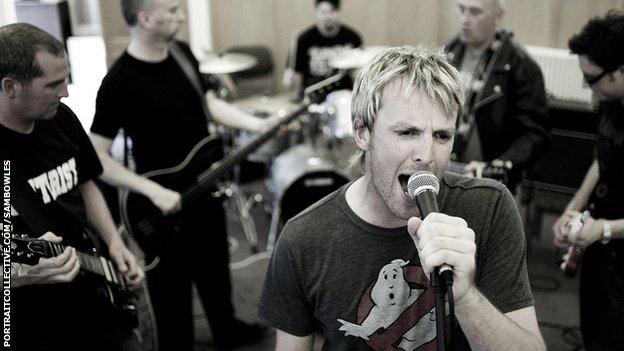 Front man
If Swann does go down the reality TV route, he is unlikely to fazed by the spotlight. Since the mid-noughties, he has been moonlighting as the lead singer of an indie covers band called Dr Comfort and the Lurid Revelations.
"On the field, Swann always believes he is only one ball away from a wicket and he has the same confidence on stage," says guitarist Andy Afford, a former Notts left-arm spinner.
"It doesn't matter how unrehearsed he is or how few times he has sung a song, you know that he thinks everything is going to be alright - and generally it is.
"He is a real showman, he can sing and he is a great performer. He has a Liam Gallagher swagger and a fruity line in language.
"The first time we played he was so enthusiastic that he gave himself a massive haematoma on the thigh by whacking it with a tambourine. It stretched from his knee to the hip bone.
"Graeme loves the craic but it would be very unfair to describe him as a clown just because he can do comedy voices. He is very serious about his cricket. You have to be to play at his level."

England talisman
These days, the all-encompassing nature of Swann's day job leaves precious little time for tambourine-bashing.
An influential member of England's Test, one-day and Twenty20 sides, Swann has become the man England turn to when they need a lift both on and off the field.
"Graeme's personality in the changing room is infectious," says England batsman Jonathan Trott.
"He has a smile on his face and is hardly ever down, but he works incredibly hard on his game.
"He is very proud of the way he goes about his business for England and of what he has achieved.
"I think he had a bit of a rough start, but he came back and did really well for England. It's great to stand at slip and watch him bowl against the Australians."