Ashes 2013-14: Stuart Broad has no regrets at not walking
Last updated on .From the section Cricket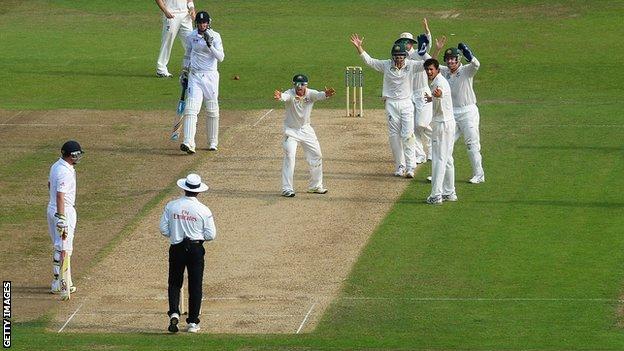 England's Stuart Broad says he does not regret not walking when umpire Aleem Dar failed to spot an edge in the first Test against Australia in the summer.
Broad was criticised by Australia coach Darren Lehmann for his actions but says he would do the same again when England defend the Ashes this winter.
Asked if he regrets not walking, he said: "No. We'd have lost the game.
"I have never been a walker so why would I walk because the umpire had given me not out?"
Nottinghamshire's Broad was on 37 when he edged Ashton Agar to slip via wicketkeeper Brad Haddin's gloves and added 28 to his score as England secured victory by only 14 runs at Trent Bridge.
Speaking to Michael Vaughan on BBC Radio 5 live, pace bowler Broad added: "There was no problem between the teams because the Aussies don't walk.
"Cricket is quite an old-fashioned sport and is still viewed in some quarters as 'you should have a cup of tea and everything will be fine'.
"But let's make no mistake about it. We are not playing for a cheese sandwich. We are playing in an Ashes series."
The hosts won the series in England 3-0 and, in a laid-back radio interview on the eve of the final Test at The Oval, Lehmann accused Broad of "blatant cheating".
Lehmann called on Australia fans to "give it to him right from the word go for the whole [Australian] summer", with England beginning their Ashes defence in Brisbane on 21 November.
Broad believes any abuse from Australia fans will inspire him to play his best cricket during the Ashes.
"I'm excited - it gets the blood going a little bit," said the 27-year-old. "An Ashes Test is always going to be lively.
"I think I will get singled out for some stick but I'm not going to take that as a personal attack.
"Guys come out to the cricket to have a few beers and a bit of banter and then they go home and chill. It's part and parcel. Premier League footballers get it every weekend.
"I wouldn't say I enjoy it, but I think it will improve my cricket. Big games I tend to thrive off. I love the moments in games that something needs to happen. I think when I am getting a bit of stick it will give me a bit more."
Broad also relived the moment when Lehmann apologised for his comments at the end of the series.
"It was sort of an apology," he said. "He came over and said he meant it in jest. I said 'I'm black and white and it doesn't look like jest'.
"He said 'Listen to the interview'. I said 'I've got far better things to do with my time' and that was about it. We shared a nice beer and I said see you in November."
Since Australia's defeat in England, Lehmann has described England's cricket as "dour" and suggested his bowlers have got into the mind of batsman Jonathan Trott.
Former Australia leg-spinner Shane Warne has been similarly derogatory, criticising Alastair Cook's captaincy and England's "negative" tactics.
Broad is unimpressed by what he sees as attempts to destabilise England.
"Lehmann will try mind games, but you'd expect Australia to try to get inside our bubble," he said.
"It's a PR game. I see Warne as working for Australia. We are not listening to what he says.
"It's like a big fight - all the trash talk that goes before it. We are the side that don't need to get involved in that.
"We're very happy with where we are as a team. We've got some skilful players, guys who are hungry to perform in Australia - we don't need to comment on Australia."