Paul Collingwood eyes qualifying success with Scotland

By Phil Goodlad
BBC Scotland
Last updated on .From the section Cricket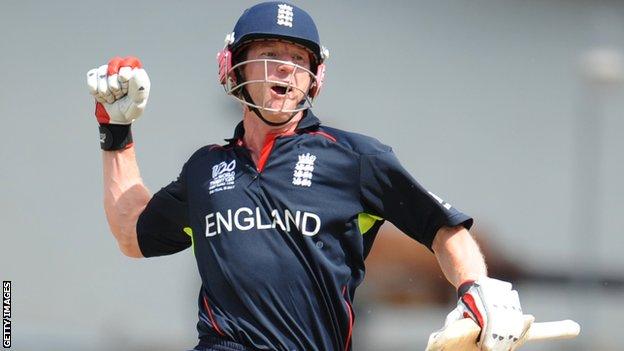 Paul Collingwood believes Scotland are in good shape as they prepare to qualify for two major tournaments.
"I've played against Scotland a number of times and there has always been talent in the side," said Collingwood.
"It's about getting the best out of that ability and I'm really looking forward to the challenge."
Collingwood, captain of England's 2010 World Twenty20 side, will work alongside head coach Pete Stiendl as Scotland set off for a pre-tournament warm-up in Sri Lanka.
Scotland then begin the World Twenty20 qualifiers in the United Arab Emirates against Bermuda on 15 November, with Afghanistan, Nepal, Kenya, Papua New Guinea, Netherlands and Denmark making up Group B.
The top six teams at the tournament will earn a place in the 2014 Twenty20 World Cup in Bangladesh.
"With the games coming thick and fast, you need to recharge your batteries well," explained Collingwood, who played 68 Tests for England.
"The lads will be training as hard as possible but you need to be careful between games on how much energy you are using up.
"I'm sure once we get out there and get going it will be a good campaign for us. If you get off to a good start, you can get on a roll and really build momentum."
January will see the Scots in New Zealand for the 2015 Cricket World Cup play-offs, with Ireland and Afghanistan having claimed the two spots from the World Cricket League.
The Netherlands, UAE, Kenya, Namibia, Canada, Uganda, Hong Kong, Nepal and Papua New Guinea will be vying with Scotland for the two remaining places.
"It's very exciting to be involved in World Cup qualifiers - it's the biggest prize in cricket for an associate team like Scotland," enthused Collingwood, who remains England's most capped one-day international player, with 197 appearances, and leading ODI run scorer.
"Hopefully I can help prepare the boys to play the best they can and get some good results.
"World Cups and qualifiers are pressured situations. There is a lot at stake. Hopefully the guys can go out there and relax and play their best cricket in a confident mood.
"It's about putting the jigsaw together - getting everyone to play their part.
"The mental side of things is the key and I'll be trying to pass on some of my experience, from playing for England to coaching Durham.
"If you go out there and back your own ability, it's amazing how far you can take your game."
Collingwood, who also has Indian Premier League experience, will be back at Durham for pre-season in February since he has another one-year playing deal to fulfil.
"This is a short-term contract," he added. "I'm hopefully starting a coaching career here and it's a great opportunity.
"The one thing I want to be part of is success for Scotland and it will be great if we can get the results out there."