Monty Panesar: Neil Burns on mentoring the England spinner
Last updated on .From the section Cricket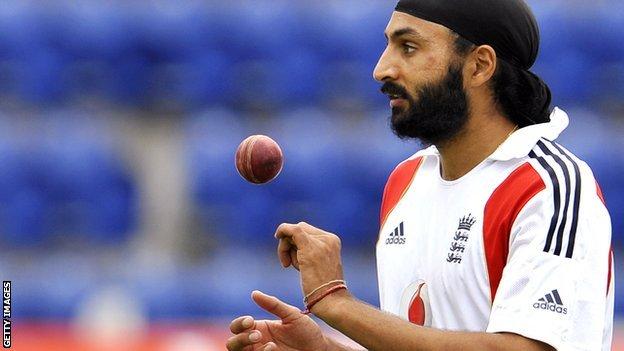 When Monty Panesar fell from grace in an altercation with some Brighton bouncers, he found himself unwanted by Sussex, with his career seemingly headed for the rocks.
His cricket had always been effervescent and innocent. Now there were images of him on YouTube being wrestled by doormen and he just didn't seem the same man. It looked like the outward expression of inner insecurities, helped along by a couple of drinks.
Panesar turned to Neil Burns at London County Cricket Club and things are finally looking on the up for him. He was named in England's squad for the upcoming Ashes series in Australia and flew out with the rest of the squad earlier this week.
Burns describes his organisation as "part cricket club, part mentoring body". He had worked with Panesar before, starting in 2008, and their relationship is based on trust, meaning much of their work remains a matter of confidence.
But Burns has spoken to me about his own working philosophy.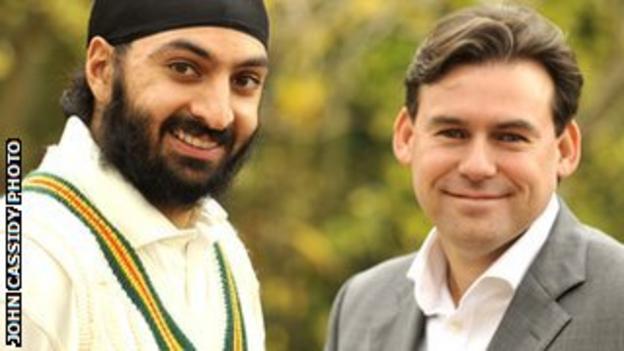 He talks about "strengthening strengths" and empowering clients to "develop a stronger sense of self" in order to have the "emotional fitness" to deal with the ups and downs of elite sport.
With Panesar, who has taken 164 wickets in 48 Tests, the focus has been on reconnecting the bowler with his love of the game. Basically, Burns wanted him to start playing with a smile again.
"Monty is a passionate cricketer and people love him for that," Burns explains. "Some people perform best when they are calm. I think Monty bowls best with fire in his belly.
"But passion cannot be turned on or off like a light switch. Emotion is complex. Enjoying greater balance off the field of play can really help too. A commitment to yoga is another recommendation I make to clients.
"He is certainly focused on doing all he can to find the necessary balance in his life. He is studying for an MBA at Loughborough University, going back to working on the basics of his spin-bowling technique and also finding time to engage with friends and family to provide that all-important balance.''
Burns enjoyed a 20-year career in county cricket as a wicketkeeper-batsman for Essex, Somerset and Leicestershire, before retiring in 2002. Having coached successfully in South Africa, he then went on to concentrate on what he describes as individual "turnarounds".
When he originally started working with Panesar, five years ago, Burns felt the bowler's career had been undermined by a media obsession with 'mystery spinners'.
He encouraged the bowler to work on his key qualities of accuracy and spinning the ball hard, while developing the stamina to bowl for long spells.
Burns says Sussex deserve credit for allowing Panesar to go on loan to Essex in August. The 31-year-old has benefited from the "family environment" there, playing with friends and getting coaching input from Peter Such and John Childs, themselves both former England spinners.
The principal of mentoring, in Burns' mind, is to provide a player with someone who is "100% in their corner" while also exploring "painful truths". In particular he believes players can become stuck when they dwell too intensely on under-performing and when they judge themselves too harshly when things go wrong.
"The analysis of a player's technique can become a tsunami of unhelpful information to any player experiencing doubt," he continues.
"Being sufficiently robust to withstand the onslaught of analysis and criticism and just re-connect with the simplicity of what works for you as an individual is vital. Knowing yourself and knowing your own game is everything for an elite performer experiencing a downturn in form.''
Burns feels it is harder now for modern professional sport to ''embrace individuality''. But he is confident England will provide a welcoming environment for Panesar in Australia this winter.
The spinner last played for England against New Zealand in March and was dropped from the entire squad for the final Ashes Test at The Oval this summer.
"Nothing would please me more than to see England play a balanced five-man bowling attack, with both Swann and Panesar operating in tandem," he says.
"I believe England coach Andy Flower and his experienced support team have the skill and sensitivity to ensure that Monty enjoys the Ashes Tour, irrespective of whether he plays in one, five or no Test matches.
"It is never easy being on the fringe of any team, but Monty now has experience of what touring is like when you aren't a first-choice pick. He knows it is more about playing whatever part a man can to ensure the collective experience becomes a treasured memory like it was last time down under for all concerned.''
And playing two spinners is an option England captain Alastair Cook told me he is considering, especially if there is a spinning wicket in Sydney. He is clearly delighted to have Panesar on tour with the team, although chiefly as back up for front-line spinner Graeme Swann.
Cook also told me England will be watching for warning signs that Panesar is becoming insular or disaffected, especially if he spends weeks carrying the (soft) drinks. After all, England's experience of the touring problems of Marcus Trescothick and Michael Yardy will tell them that emotional fitness is hugely important.
''Clearly Monty's had a tough summer and a tough year or so," Cook said. "A lot of us didn't quite know what he was going through off the field if we're totally honest.
"I can speak from what they guys have said at Essex and I certainly think he's on the right path. I think the first thing was recognising that he did have a problem.
"He says now that he's really ready to go again, we're going to work well with him, look after him on a long tour, but the bottom line is he's a fantastic bowler with a fantastic track record.
"With our two spin bowlers we are very lucky in that department."
As for Burns, a central plank of his philosophy is for players to ''view setback as a gift to new learning". It's a mantra he's been stressing to another of his clients, Nick Compton, since his omission from the Ashes squad - perhaps the harshest selection decision of all those made by England.
But Panesar is there wherever and whenever England need him. His selection proved crucial to England's revival in their historic series victory in India last winter and Burns was reminding him of exactly that before he left for Australia.