South Africa penalised for ball tampering against Pakistan
Last updated on .From the section Cricket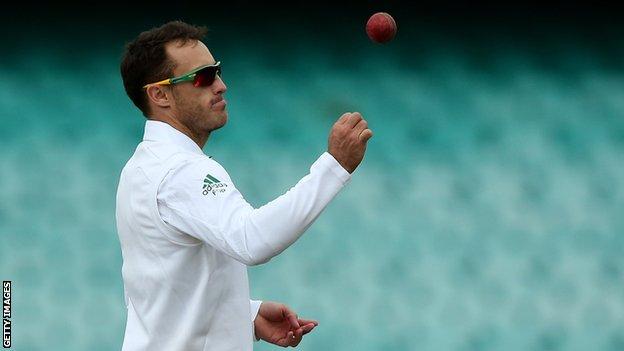 South Africa have been penalised five runs for ball tampering during the third day of the second Test against Pakistan in Dubai.
Replays showed Faf du Plessis rubbing the ball over a zip on his trousers.
After talking to Proteas captain Graeme Smith during Pakistan's second innings, umpire Ian Gould awarded the additional runs to Pakistan.
But South Africa vice-captain AB de Villiers said: "We are not a team that scratches the ball."
The decision meant the umpires had decided the ball's condition had been changed contrary to the game's rules.
It is expected the umpires will lay a charge against Du Plessis to match referee David Boon after the day's play, with an immediate hearing to follow.
"We don't cheat, it is as simple as that," De Villiers continued. "I know Faf du Plessis very well, he's the last player on the field who will try something like that.
"It is part of his responsibility to shine the ball and get it to swing. It's not an easy job and I thought he did it very well."
Gould and fellow umpire Rod Tucker, who also ordered the ball to be changed, took the unusual action at the start of the evening session in Dubai, where South Africa are on the verge of completing a comfortable victory.
After bowling Pakistan out for 99 in their first innings, Smith hit 234 and AB de Villiers 164 as South Africa made 517 in reply.
Pakistan were 132-4 at the close on day three, needing a further 286 to avoid an innings defeat.
"As per 42.1 of the ICC playing conditions, the umpires replaced the ball and fined the South Africa team five penalty runs for ball tampering," an ICC spokesperson confirmed.
The last time a five-run penalty was issued for ball tampering was during the 2006 Oval Test between England and Pakistan, when the tourists were adjudged the guilty party.
Pakistan captain Inzamam-ul-Haq reacted angrily and decided not to continue the Test in protest.
Australian umpire Darrell Hair duly awarded the game to England - the only forfeited match in Test history.
This month, the ICC amended its laws regarding the condition of balls, saying "if a player responsible can be identified" the ball will be changed, a five-run penalty will be awarded and the player responsible will be reported.
Altering the condition of the ball is a level two offence under the ICC's code of conduct, which carries a penalty of 50-100% of their match fee and/or suspension from one Test or two one-day internationals for a first offence.