Ashes 2013: Matt Prior says series win would be career high
Last updated on .From the section Cricket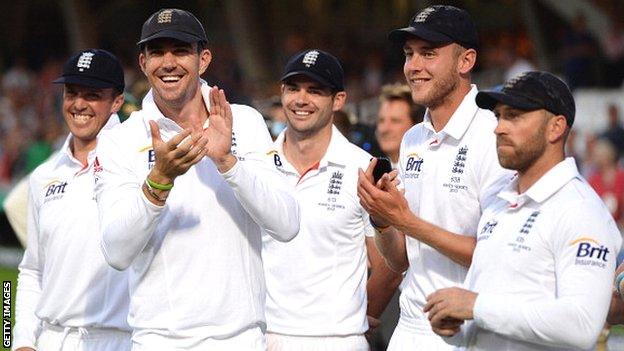 Helping England to a fourth successive Ashes series victory would be "the biggest thing" in Matt Prior's career.
The series begins on 21 November with England seeking a fourth straight success for the first time since 1890.
"Those days when the guys used to think, 'Oh my goodness, we are going to Australia again, we are going to get beaten up', are gone," said wicketkeeper Prior, 31.
"The plan is to go over there, win and win well."
Having recovered from the humiliation of a 5-0 whitewash in 2006-07, England regained the Ashes in 2009 and on their last visit down under three years ago claimed their first victory on Australian soil since 1986-87.
"The experience of beating them in 2010-11 is hugely important," said Prior, who has scored 646 runs at an average of 32.30 and taken 52 catches and one stumping in 15 Ashes Tests.
"I look back at the memories of travelling to Australia and they are all great memories - winning games, playing well, the team scoring big scores, bowling Australia out.
"All of those very positive thoughts come into your mind before you've even got on the plane and that's vital."
The Sussex keeper dismissed criticism from Australia coach Darren Lehmann, who last month described England's style of play as "dour".
"We don't pay any attention to that," Prior said. "We play a winning brand of cricket and we will continue to work on winning games of cricket and series.
"The team enjoys those challenges and making that bit of history. This four in a row would be the biggest thing in my career and, I imagine, also for the other boys."