Ashes 2013-14: England tour games vital - Alec Stewart

By Alec Stewart
Ex-England captain & Test Match Special summariser
Last updated on .From the section Cricket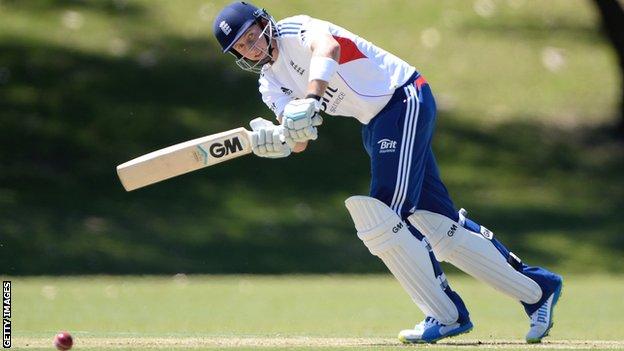 England have been in Australia for almost a week, but their preparations for the Ashes will step up a level when they play their first warm-up match.
Although some people say these matches do not mean much, I think they are vital because they have first-class status, it will be competitive cricket and players will want to impress.
There will also be "battles" within the England team, with players putting down markers for selection for the Test opener in Brisbane.
The selectors, subject to injury, will know eight or nine of their first-choice XI, which means the tour games are effectively an audition for just a couple of places.
In terms of the batsmen, Alastair Cook, Jonathan Trott, Kevin Pietersen and Ian Bell are inked in, with Joe Root likely to start as well.
Assuming Root stays at the top of the order - as he did during the Ashes in England this summer - Michael Carberry, Jonny Bairstow, Ben Stokes and Gary Ballance will vie for the number six spot.
With Matt Prior keeping wicket, and James Anderson, Stuart Broad and Graeme Swann bankers in the bowling department, only one quick bowling spot is still up for grabs.
The contest between Boyd Rankin, Steven Finn and Chris Tremlett will be fought in those three warm-up games - and, to a lesser extent, in the nets - and it is up to those players to grab their opportunity.
And we must not forget Tim Bresnan, who is recovering from a stress fracture of the back and could also come into contention for the series opener.
Even if a "banker" player were to perform poorly in any of the tour matches, it would have little bearing on their place in the series opener as they'd have enough in the bank already to maintain their place.
The squad may not have seen any competitive action yet but they will certainly have had a taste of the what touring Australia is all about.
You cannot hide from the fact that you are an England cricketer in Australia because wherever you go - the ground, a restaurant or a hotel - there is always be someone, a waiter, waitress or whoever, who wants to remind you that you are English, you are not very good and that Australia will easily beat you!
It is all just Aussie banter and their attempt at humour, but as long as you are prepared and know it is coming it's pretty easy to laugh off.
I'm sure Stuart Broad will be singled out the most after the "not walking" saga at Trent Bridge last summer but he and his fellow England players will have heard much worse.
Cook accepts that England are favourites - and I agree. They have won three Ashes series on the bounce: two at home and one away.
The 3-0 margin in England over the summer was a convincing one. Australia can say they had the better of certain parts of matches, but they never did enough to get over the line.
I do expect Australia to be stronger in their own home conditions, and they are now more experienced after touring England.
But there is still a gulf between the sides and - man for man - England are better equipped and cover all bases. Australia are lacking in consistent run getters and are too reliant on their injury-prone captain Michael Clarke, while Nathan Lyon the off-spinner is no match for Swann.
The pace bowling department, subject to fitness issues, is their strength and if Mitchell Johnson can take his recent limited-overs form into the Test arena he could be a real handful, but I'm expecting more Ashes success for the visitors.
It certainly is a stark contrast to my days as a player. I had the unenviable record of losing four Ashes series down under, at a time when Australia were head and shoulders above every other side in the world.
For all the possible shortcomings of this current Australian side, it will still be a tough tour for Cook and his men.
The Aussies are a very proud nation and will fight every inch of the way, and will want to give their fans plenty to shout and cheer about.
England know they cannot just turn up and expect to win; they must prove they are good enough - and they will. They will win the series, but it will not be plain sailing.