DRS: Andrew Flintoff wants decision review system scrapped
Last updated on .From the section Cricket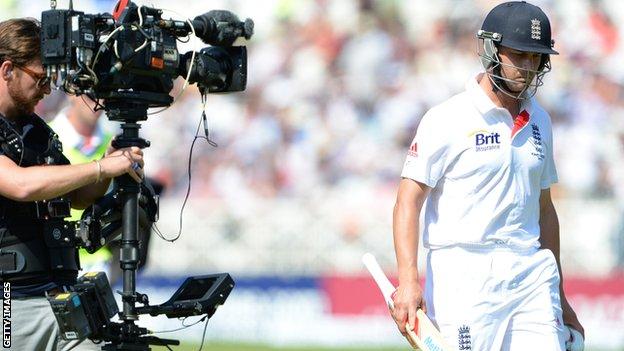 Former England captain Andrew Flintoff is calling for the decision review system (DRS) to be scrapped.
Flintoff wants a return to the days when decisions rested solely with the on-field umpires.
DRS was at the centre of several controversies during England's Ashes victory over Australia in the summer.
"I don't think it's needed, just let the umpire do it. It's one of the few games left where the umpire's decision is final," said Flintoff.
"It's not like football where they'll stand there shouting, screaming and swearing at them.
"Like it or lump it, he'll stick his finger up, or not, and you've got to get on with the next ball."
The International Cricket Council was forced to send its director of operations to meet with players and staff from both teams after the third Ashes Test at Old Trafford to discuss the use of DRS.
England were aggrieved Jonathan Trott was given out lbw during the first Ashes Test despite appearing to nick the ball.
He was given not out by on-field umpire Aleem Dar but dismissed by Marais Erasmus despite the key Hot Spot camera angle being unavailable to the official.
Kevin Pietersen failed to have a caught behind decision overturned in the third Test at Old Trafford despite no mark on his bat showing on Hot Spot.
The decision to give Australian batsman Usman Khawaja out, caught behind off spinner Graeme Swann, in the third Test at Old Trafford was upheld despite a review showing no Hot Spot mark and no audio.
Australian Prime Minister Kevin Rudd called it "one of the worst cricket umpiring decisions I have ever seen".
Stuart Broad also refused to walk when edging to Michael Clarke at slip off the bowling of Ashton Agar, with Australia unable to ask for DRS to be called into action having used up their two reviews.
"I got a hundred against New Zealand at Gloucester and got caught behind for about 15, but I stayed out there," admitted Flintoff.
"On the flip side you get some shocking decisions and you've got to walk off. It evens itself out, it doesn't need DRS, let the umpires make the decisions."
The decision review system is being changed for this winter's Ashes with each team allowed an extra two referrals after 80 overs of an innings.
At the moment teams are allowed two unsuccessful reviews per innings.
Snickometer, which detects edges using sound, could also be made part of the DRS process, subject to further testing.
But Hot Spot will not be used as host broadcaster Channel Nine has chosen to drop the controversial system because of concerns over its cost and reliability.