Glamorgan's Jim Allenby has split loyalties before England opener
Last updated on .From the section Cricket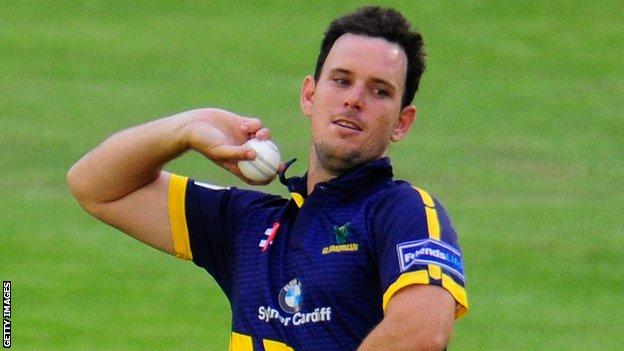 Glamorgan all-rounder Jim Allenby says he will find it strange facing England in the Ashes tour opener in Perth.
Australia-born Allenby is qualified to play for England having moved to the United Kingdom 13 years ago.
"It is a little bit of a funny one to be playing against England over here," he said.
"I would love to play for England like all county cricketers do.
"But I accept fully that it's a tough side to break into. They're a brilliant cricket team and the set-up is second to none.
"To be involved in that set-up would be great. It's not something that is going to happen overnight.
"There's a lot of people who have taken a lot of time to take their chance.
"If I do one day get a chance to do it, it will be massive moment in my career and my life.
"But at the moment it's not that realistic. [But] another season like last and you just never know."
The 31-year-old former Leicestershire player previously said he was frustrated not to have gained any recognition from the England selectors.
Perth-born Allenby also revealed Australia had started to show an interest but said his ambition was to play for England.
Allenby says he will have split loyalties when he faces England and admits he is more familiar with the opposition than his own team-mates.
"Growing up I always wanted to play at the Waca against England for Australia," Allenby added.
"But that's certainly changed in the last 15 years that I've been in the UK.
"I'm really looking forward to playing against some guys that I only usually play against in the northern [hemisphere] summer.
"I've been training for a couple of days with the team I'm playing in.
"I certainly know the team I'm playing against probably a bit better than the guys I'm playing with.
"It's great to be, in a small way, a part of the Ashes. I'm going to really enjoy the atmosphere and the buzz that's around the place at the moment.
"People can't wait for this series to get started."