Glamorgan's Jim Allenby excited by new head coach Toby Radford
Last updated on .From the section Cricket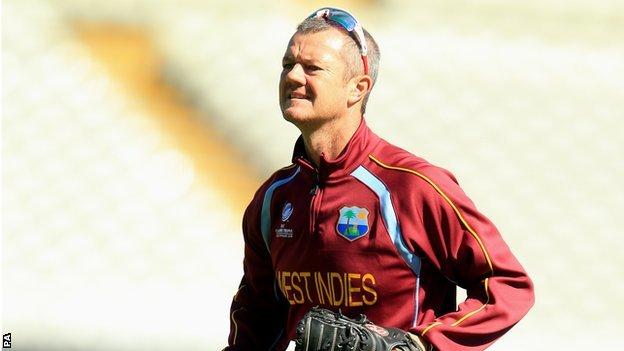 Glamorgan all-rounder Jim Allenby says he is looking forward to working with the county's new head coach Toby Radford.
Allenby says Caerphilly-born Radford will inherit a squad which he admits has underperformed in recent years.
"I'm excited to see what he's about and how he's going to plan to keep us improving," Allenby said.
"He's got a big job but I think it's a great job to get because it's a squad that's ready to do well with the right guidance.
"He's got an opportunity himself to test his coaching abilities with a good group of players who have underperformed.
"It's really exciting for him I'm sure as it is for us that he's come on board."
Allenby has also welcomed the appointment of former Glamorgan captain Hugh Morris as the county's chief executive and director of cricket
Morris will take up the dual role when he steps down as England's managing director in January.
"All the changes that have been made seem to be pretty positive ones and everyone can see good things on the horizon," Allenby said.
"There's definitely an opportunity for good times to come. We've got the off field stuff is pretty much sorted now.
"I'm really excited to get going with Hugh, who has been in touch will a lot of us quite regularly.
"It's really exciting for us to get new people in charge, whether that's off the field with Hugh Morris or on the field like a coach."
Allenby is spending the British winter in Perth where he lined up for a Western Australia Chairman's XI to take against England in the first match of the Ashes tour.
The 31-year-old and believes an improved Glamorgan can help him and his team-mates realise their international ambitions.
"We've got an opportunity as players to do better and keep improving," Allenby added.
"I've said for a long time that the only way to get into England reckoning is to play in a good side.
"Playing in finals cricket and promotion to [County Championship] Division One is how it should.
"So we need to be successful as a club to get our players on the England radar, which in turns helps you recruit as well as keep your better players. I think we've got a chance to do that."
One player who will not be returning to Glamorgan next season is former England paceman Simon Jones.
Jones has not been offered a Twenty20 contract with county and Allenby said he was sad to see the 34-year-old leave.
"It's a massive shame he's not going to be with us," Allenby said.
"I have no doubt he will find somewhere to play cricket because he's still god enough to perform at a level."