Ashes gossip column: Stories & rumours from international media
Last updated on .From the section Cricket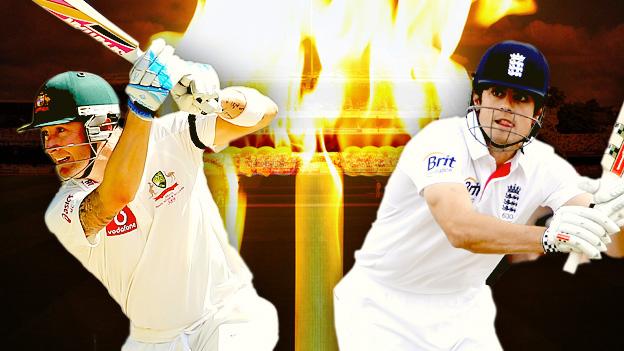 Sunday, 5 January
"With Nathan Lyon leading the song, it was a very different scene to the one here three years ago, where legions of the Barmy Army celebrated England's victory by singing their own ditties and doing the famous sprinkler dance invented by Graeme Swann," writes former England all-rounder Derek Pringle in the Daily Telegraph after Australia's 5-0 Ashes whitewash of England was completed in Sydney. "This time it was a deluge that hit England and one that never smelled of sweet success."
Former England captain Mike Atherton, the chief cricket correspondent in the Times, writes: "There is a drink and drive campaign in these parts, with billboards splashed all around the Sydney Cricket Ground, and it asks of the locals 'What's your plan B?' For England there hasn't been one."
Full story: the Times (subscription required)
"Clarke's Australians, just as Ricky Ponting's before him, have wrought a terrible 5-0 revenge for defeat in England," writes former England bowler Mike Selvey in the Guardian. "The loss, by 281 runs, sits uneasily alongside those of 381 in Brisbane, 218 in Adelaide, 150 in Perth, and eight wickets in Melbourne: an aggregate loss of 1030 runs and eight wickets in other words and a galaxy away from the Gabba where on the first day of the first Test Australia at one stage were 132 for six. Has there ever been such a comprehensive trouncing?"
The Sydney Morning Herald focuses on Australian veterans Ryan Harris and Chris Rogers in describing how "a banged up pace bowler and a once forgotten man" led Australia to an Ashes whitewash.
Full story: Sydney Morning Herald
The Age debates whether another veteran, Australia vice-captain Brad Haddin, should have earned a share of the man of the series award with paceman Mitchell Johnson, who took 37 wickets. Haddin, the 36-year-old wicketkeeper, scored 493 runs and took 22 catches in the five Ashes Tests.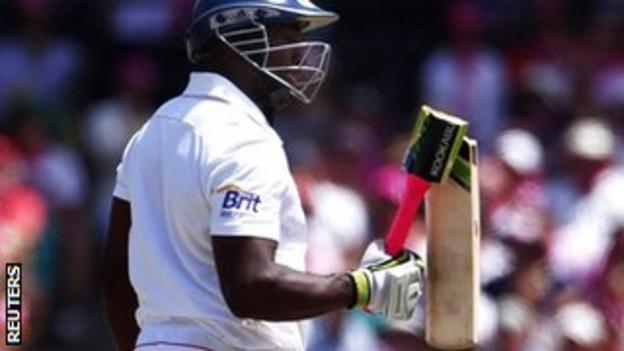 Perth Now muses on England batsman Michael Carberry's broken bat in Sydney. "The old saying goes, if you're not going to use it properly, don't use it at all. And that might have been what the cricketing gods had in mind for Michael Carberry when his bat extraordinarily broke in half in the final throes of England's woeful Ashes tour."
Saturday, 4 January
The Australian bowling in this series has been consistently brilliant," writes Mike Selvey. "At their best, as this has been, great attacks feed from one another with styles that complement. The opposition are given no respite, the captain able to call on each and every one on demand in the knowledge that no-one is to be hidden away. Michael Clarke has at his disposal a great balance."
Ghoulish. Grotesque. Grisly. Ghastly. Macabre. There are many ways, no doubt, to describe the opening hour at the Sydney Cricket ground today, but England's situation was on a different level to anything else witnessed on this tour," writes Michael Atherton. There was a fascination of sorts in observing it, the kind of fascination that comes when a beaten and helpless prey is in the jaws of its attacker, dying but not yet dead, awake but aware that there is no escape
Full story: the Times (subscription required)
Michael Clarke's series ended with an uncommitted prod at Stuart Broad. His series average sits above 40, but is 15.80 since the second Test in Adelaide, proving that even a winning captain can be burdened by leadership. He has scored 101 runs in that period. Cook? He has made 161. But only one of the two is considered to be in batting turmoil.
Injury-prone Australia fast bowler Ryan Harris wants to be involved in the defence of the Ashes in 2015 in England.
Full story: Fox Sports Australia
Brad Haddin will not be retiring from Test cricket at the end of the Ashes series, according to former Australia wicketkeeper Ian Healey. ''I asked him about it in Melbourne, and he's not going anywhere,'' said Healy.
Full story: Sydney Morning Herald
George Bailey will get one final chance on Sunday to play for his Test career. The under-pressure Bailey, who arrived at the crease on Saturday evening with a modest career average of 22.83, will resume on 20 with everything to play for.
Full story: the West Australian
Friday, 3 January
That was absolute Groundhog Day for England, writes former captain Nasser Hussain. They haven't played five different Tests in this series - they've played the same Test five times.
England's attempts to avoid an Ashes whitewash began with a trio of new caps but ended with the slaughter of the innocents after Steve Smith and Brad Haddin put England and its next generation of players to the sword at the Sydney Cricket Ground, writes Derek Pringle.
England lost their grip once again on Australia's slippery middle order in a slack post-lunch session at the Sydney Cricket Ground, but there was some consolation in a feisty bowling performance as the clouds gathered later in the day, and no great surprise that it should be Ben Stokes who provided a sense of incision against the tail, writes Barney Ronay.
Ben Stokes once again proved there's a silver lining to every cloud with another impressive performance for a gloomy England side on day one of the fifth Ashes Test.
The schedulers are continuing to undermine the best thing their game has going for it with incessant back-to-back Test matches, writes Malcolm Knox. Eight of the 10 encounters this year have been played to this squashed timetable. Each time the players have lifted themselves, but questions must be asked about why they should be forced to turn this great contest into an attritional fight between men and their own bodies.
Full story: Sydney Morning Herald
Thursday, 2 January
Australian cricket legend Glenn McGrath says there has been "a lack of fight" from England's cricketers during the Ashes tour.
Former Australia wicketkeeper Ian Healy believes England will risk damaging young leg-spinner Scott Borthwick if they pick him for the Sydney Test.
Ex-England captain Mike Atherton is calling for Michael Carberry to be sacrificed with Joe Root promoted to opener for the fifth Test.
Full story: The Times (subscription required)
Derek Pringle expects Gary Ballance to get a working over from Mitchell Johnson if he is picked for England because there is a feeling he struggles against short-pitched bowling.
Nasser Hussain has called on Alastair Cook to stamp his authority on the England team and stop letting James Anderson and Stuart Broad make their own field changes.
Tuesday, 31 December
Australia's players are to share bonuses of more than $500,000 (£447,000) as reward for their success against England this summer.
The England and Australia teams will meet at a social function for the first time on the tour on Wednesday when they attend Australian Prime Minister Tony Abbott's official Ashes reception at his Sydney residence.
Opening batsman David Warner's superb form in the Ashes has been rewarded with a recall to Australia's one-day squad, at the expense of Phillip Hughes.
Full story: Sydney Morning Herald
Geoffrey Boycott says Alastair Cook does not have the right personality or tactical awareness for captaincy, and does not think he is the right man for the role with England.
Monday, 30 December
Former England captain Michael Atherton labels the current Ashes debacle as the "worst Australian tour of my experience" and suggests dropping Michael Carberry and Tim Bresnan and calling up Gary Ballance and Scott Borthwick for the fifth Test in Sydney.
Full story: The Times (Subscription required)
Another ex-England skipper Ian Botham admits he is "embarrassed" by the performance of England in the eight wicket defeat in Melbourne.
Tasmanian batsman Alex Doolan, 29, is in the frame for a Test call-up after Shane Watson damaged his groin in the Boxing Day Test.
Australian batsman Phil Hughes, 25, who was overlooked by the selectors despite scoring 549 Sheffield Shield runs this seasons at an average of 61, says he is "fine" with the decision to go with Doolan.
Nasser Hussain writes the defeat in Melbourne is "the lowest point of many lows" in the current Ashes series.
Sunday, 29 December
The fourth Test in Melbourne should be viewed as the first of a new England era, rather than as the fourth of a calamitous series. Alastair Cook's inexperienced team did well to get on top of Australia's settled side playing in their home conditions and in front of their biggest crowd, before letting the game slip.
Full story: the Sunday Telegraph
Alastair Cook admits his captaincy is under scrutiny and acknowledges only a convincing performance in Sydney next week will restore self-belief and faith in the team.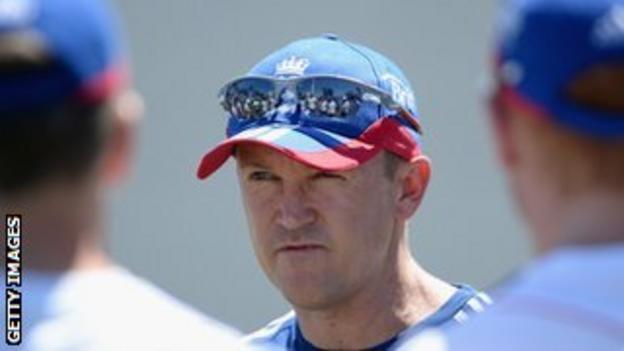 England team director Andy Flower's position is virtually untenable after not just England's defeat in Melbourne but the manner of it. It is a question of 'when' not 'if' he goes.
Greg Baum writes in the Melbourne Age that England almost gave up in the fourth Test. He had to rub his eyes as he saw a team that beat India in India fewer than 12 months ago, and was too good for Australia in the northern Ashes, complete its falling apart in Australia.
Former Test bowler Sir Richard Hadlee claimed that Australia fast bowler Brett Lee could have killed Piers Morgan when he deliberately bowled at the broadcaster's body in a batting versus bowling contest in the nets during the tea break on the second day of the fourth Ashes cricket test at the MCG.
Full story: Sydney Morning Herald
Saturday, 28 December
Former Australia fast bowler Geoff Lawson believes his country's selectors should rest their frontline bowlers for the final Test in Sydney, as thoughts turn to their Test series in South Africa in February.
Full story: Sydney Morning Herald
Fast bowlers Pat Cummins, Mitchell Starc and James Pattinson will fly to Perth next week to work with Australia bowling legend Dennis Lillee, as the trio continue their comeback from stress fractures.
Bowling all-rounder James Faulkner could replace either Ryan Harris or George Bailey in the final Test at the Sydney Cricket Ground, which starts on Friday.
Shane Watson and Ryan Harris may be rested for the Sydney Test after suffering injury niggles while bowling in Melbourne.
Friday, 27 December
Santa has given us many things to write about this Christmas - a world record crowd, some magnificent fast bowling and even the sight of an entertainer donning a Trappist monk's outfit for four-and-a-quarter hours of straight-laced accumulation, writes Michael Atherton. Whether he gives us an England victory remains to be seen, but at least he has given us hope, which is no mean effort on this most difficult of tours.
Full story: the Times (subscription required)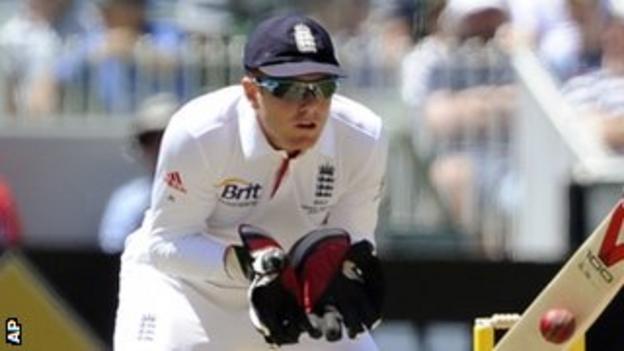 Jonny Bairstow set a high standard on his Test debut behind the stumps, but keeping wicket for England requires him to make runs as well as take his catches, writes Vic Marks.
George Bailey's controversial DRS dismissal could cost him his place in the Australia Test team. Although Hot Spot did not register an edge, Bailey was given out caught behind off James Anderson when the real-time Snickometer suggested contact between bat and ball.
Full story: Adelaide Advertiser
Mitchell Johnson could become the fourth Australian bowler to take 40 wickets in an Ashes series after another devastating spell in Melbourne took his tally to 28.
Australia's poor second day of the fourth Test came as a timely reminder this team still have plenty of question marks ahead of the tour of South Africa.
Full story: Brisbane Courier Mail
Thursday, 26 December
Australia's dream of an Ashes whitewash is alive and well despite the best efforts of a dogged, dramatic - and twice-dropped - Kevin Pietersen in front of a world record crowd, writes Chris Barrett.
It was ironic that, on the day Kevin Pietersen surpassed Geoff Boycott's Test run tally, he should provide a more than passable imitation of England's famously patient batsman, writes George Dobell.
England must move Ian Bell up to number three if they are to capitalise on good starts and change the momentum of an innings, says former captain Nasser Hussain.
Chat show host and former newspaper editor Piers Morgan will face 10 balls from former Australia fast bowler Brett Lee in the MCG nets on Friday after accepting a challenge on Twitter. Morgan said: "I won't quit, or go home. But I may die...."
Full story: Sydney Morning Herald
The world record Test crowd of 91,092 on Boxing Day did not include the 3,000 or so players, team staff, accredited media, police, entertainers and ground staff who were in the stadium.
Full story: Brisbane Courier-Mail
Wednesday, 18 December
Australia regaining the Ashes in only the third match of the series has predictably dominated both the front and back pages down under.
Here are a selection of stories:
Statistics show that England batsmen are faring worse in the current Ashes series than those on the whitewash tours of 2006 and 1920.
The Age reports that "four years of subjugation at the hands of England came to a crushing and jubilant end" under the headline "Ashes are coming home".
Spinner Nathan Lyon led the Australian team's traditional victory song "Under the Southern Cross I Stand" and rare footage of the tune, containing some rather explicit lyrics, was made public.
Australia coach Darren Lehmann's management style of using both "carrot and stick" paid dividends in the Ashes series says Perth Now.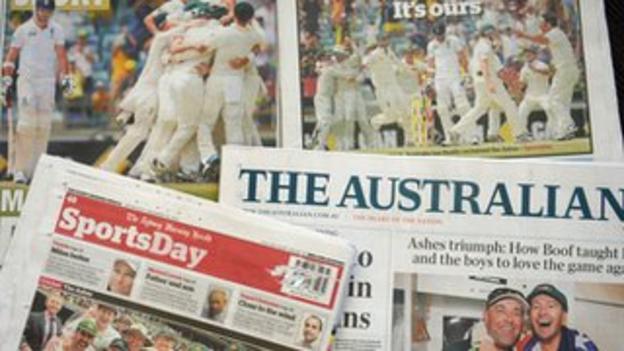 The Sydney Morning Herald says Lehmann's "contrasting mix of hardness and humour" is "behind the dramatic transformation of the Australian team".
Full story: Sydney Morning Herald
The Australian describes: "How Boof taught Pup and the boys to love the game again".
England vice-captain and wicketkeeper Matt Prior says "We have not been good enough and finished third in a two-horse race."
Full story: Sydney Morning Herald
Australia seamer Ryan Harris has apologised for a Twitter rant he sent in the early hours after being refused entry to Crown Perth casino while celebrating his team's Ashes victory.
Another Australia seamer Peter Siddle, who has dismissed Kevin Pietersen 10 times in Test cricket, says he relishes every success against England's premier batsman. "He's obviously inflicted a lot of pain on us over the years, so to see the back of him is always nice," Siddle says.
Full story: The West Australian
England captain Alastair Cook insists Andy Flower remains the right man to coach the team.
What the Cricket Writers had to say:
Chris Barrett in the Sydney Morning Herald
"Australia put behind them, arguably, their worst year in Test cricket in 25 years to destroy England with aggressive cricket. They batted and fielded far better than their opponents and shook up Alastair Cook and his men with brutal fast bowling."
Greg Baum in the Sydney Morning Herald
"This was a miracle, if not on the Lourdes scale, the Lord's scale. In the first leg of this unprecedented double Ashes series in England four months ago, England won 3-0. If that margin flattered England, the idea of reversing it in the return series instantly was preposterous."
"And then there was the boy with the dragon tattoo. So much for England's self-styled, almost embarrassingly hubristic psychological profiles as "assassins" and whatever else. Speaking of embarrassing, how about those idiots who said Johnson was too risky to select?"
Peter Lalor in The Australian:
"The Australians wandered out into the middle of the ground at around 6pm Perth time with a few people still around. They didn't pee on the pitch, but they did launch into one of the loudest versions of the team song ever heard."
Tuesday, 17 December
England are in danger of slipping behind Australia to fourth in the world rankings. A result no worse than the current 3-0 scoreline would keep England in third place.
Andy Flower's future as England team director could be decided in a meeting with new managing director Paul Downton in Sydney during January.
Former England captain Nasser Hussain says dropping Kevin Pietersen, James Anderson and Graeme Swann is not the answer for the beleaguered tourists.
But another former skipper, Bob Willis, would leave Swann, Michael Carberry, Matt Prior and Tim Bresnan out of the side for the fourth Test.
Monday, 16 December
Australian journalist Malcolm Knox, writing in the Sydney Morning Herald, says Shane Watson's 103 on the fourth day of the third Test was like playing "Whac-A-Mole".
Full story: Sydney Morning Herald
The West Australian's Justin Chadwick says Ben Stokes's unbeaten 72 could give England hope that they have unearthed the "next Andrew Flintoff".
Full story: the West Australian
Opener David Warner could attract two million Australian dollars at the IPL auction in January, and A$50m over the rest of his career, as Cricket Australia hope he resists the interest of Major League Baseball scouts.
Former England captain Andrew Strauss says Australia's Ashes dominance shows that England have been "cruising" in recent years.
Scyld Berry, writing in the Telegraph, says James Anderson and Graeme Swann might not recover from the punishment they have taken down under.
Sunday, 15 December
England are in disarray, according to Sir Ian Botham. "The wheels were well and truly off today," said the former England all-rounder of their performance on day three of the third Test in Perth.
Respected cricket writer Scyld Berry believes the third-day struggle was England's most demoralising this century.
Former England captain Nasser Hussain says each England player must ask himself if they have the "pride and the bottle" to take on Australia.
Malcolm Knox, writing in the Sydney Morning Herald, says England's "old guard" are failing them in their doomed Ashes defence.
Full story: Sydney Morning Herald
Australian writer Jarrod Kimber says wicketkeeper Matt Prior's struggles embody England's dire Ashes defence.
Saturday, 14 December
The decision to give Joe Root out caught behind on the second day of the third Test was correct because there was no conclusive evidence to the contrary, according to former England captain Michael Atherton.
The technology behind the decision review system (DRS) should not be blamed for the Root dismissal, writes Justin Chadwick, rather the umpires using it. In this case, third umpire Tony Hill.
Full story: the West Australian
Former Australia pace bowler Geoff Lawson says Western Australians have adopted Mitchell Johnson as their own as the former Queenslander plays on his new home ground of the Waca.
England captain Alastair Cook impressed with 72 on the second day in Perth, but his team needed much more from him.
Former England coach David Lloyd says "just call me Pep" after leading the English media to a 3-2 football win over their Australian counterparts.
Friday, 13 December
Mitchell Johnson will be "frothing at the mouth" to bowl on a fast, bouncy Waca wicket that England's bowlers struggled to extract any life from.
England fast bowler James Anderson, who has taken only five wickets in this Ashes series, has "lost his mojo".
Full story: the West Australian
Respected Australian cricket writer Malcolm Conn says England's Ashes campaign went wrong when they selected tall pace trio Steven Finn, Boyd Rankin and Chris Tremlett on height, rather than form. The decision has proved an "embarrassment" according to Conn.
Full story: Adelaide Advertiser
Umpire Billy Bowden, standing in his first Test match since June, made two counting errors on day one in Perth. First he cut short a Stuart Broad over after five balls, then forced Ben Stokes into a seven-ball set.
England stuck to their task well on an unresponsive Waca pitch, but overused the short ball, according to former captain Nasser Hussain.
Thursday, 12 December
England coach Andy Flower might be too exhausted to stay around to steer the team through yet another transition period as they aim to regain top spot in the Test rankings.
Former Australia captain Allan Border has warned that England's pride has been wounded and they are still "a dangerous side" capable of getting back in the contest.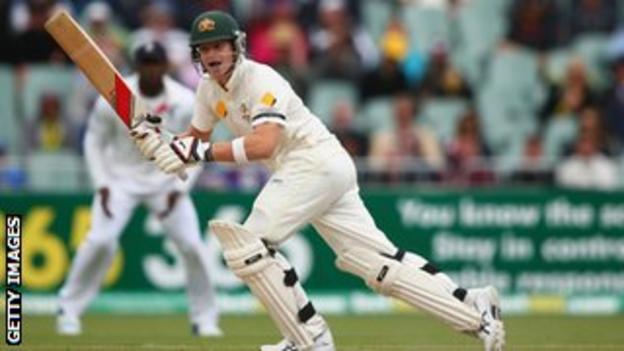 Steve Smith describes Mitchell Johnson's ferocious pace as "scary" and says he is relieved not to be facing him on Perth's pacy pitch after being on the receiving end for seven minutes in the nets during practice on Thursday.
Full story; The West Australian
England batsmen have been caught on the leg-side on 21 occasions in the opening two Test matches and it indicates just how much of an impact Australia's 'bodyline' bowling tactics have had on the tourists' shot selection.
Full story: Adelaide Advertiser
Wednesday, 11 December
Australia fast bowler Mitchell Johnson has welcomed England's plans to attack his bowling in the third Test at Perth - the 32-year-old has taken 17 wickets in the first two matches of the series.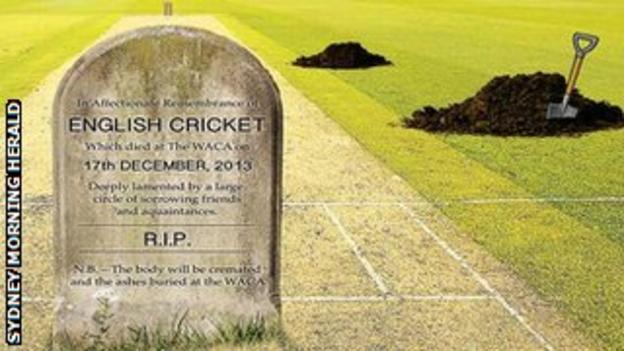 Full story: Sydney Morning Herald
Steve Smith hopes to make more of a contribution to Australia's efforts in Perth than in the first two Tests, in which he scored 60 runs over four visits to the crease.
Full story: The West Australian
Former Australia wicketkeeper-batsman Adam Gilchrist believes his country's public are finally getting behind skipper Michael Clarke following his centuries in the opening two Ashes Tests.
The current Australia side's aggressive approach is reminiscent of the one taken by teams captained by Allan Border, writes Derek Pringle, an opponent of Border's with England and a team-mate as an all-rounder at Essex.
Tuesday, 10 December
Australia left-arm seamer Mitchell Johnson, who has taken 17 wickets in the first two Tests of the series, could earn a multi-million dollar pay day through lucrative deals on and off the field.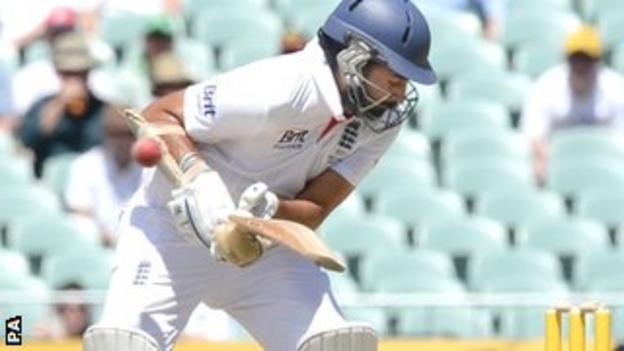 Australia batsman George Bailey has been involved in some frank on-field discussions with England players but admitted some sympathy for Monty Panesar when the England number 11 was facing Johnson at speeds approaching 95mph. "That didn't look that much fun," he said. "He was muttering away to himself to watch the ball. It was not pretty. It's uncomfortable, there is no doubt about that."
Full story: Sydney Morning Herald
Bailey, 31, in his first Ashes series, insists it would be naive for Australia to think a series-clinching Ashes win in Perth is a formality.
Full story: The West Australian
Australia fast bowling coach Craig McDermott says there are no plans to stop the barrage of short-pitched bowling for the third Test. "We are not going to go away from that and there's not too many tailenders around that enjoy playing balls around their helmet and so be it," he said. "We just want to play good aggressive, Australian cricket and keep doing that every time we put our foot over the rope."
Full story: Adelaide Advertiser
Ryan Harris reveals that McDermott invited him - along with fellow pace bowlers Johnson and Peter Siddle - for a barbeque before the start of the series, saying: "We talked a little bit about cricket, but more about just life. At the end of the night I left and thought: 'Far out, we've got a bloody good group here, we are going to have success this summer.'"
Alastair Cook's future as the England captain is "in deep jeopardy" as he prepares for his 100th Test, writes Stephen Brenkley.
Monday, 9 December
England captain Alastair Cook has spoken to his team and, in particular Kevin Pietersen, and insists they still have the hunger to fight their way back into the Ashes series.
'Demoralised by demons' is the headline for an article about England by Greg Baum, who writes: "Australia barely bowled a ball that the English batsmen needed to play, but they played at them all anyway. Their approach betrayed addled minds, perhaps full of the image of a leering Mitch Johnson bearing down on them again."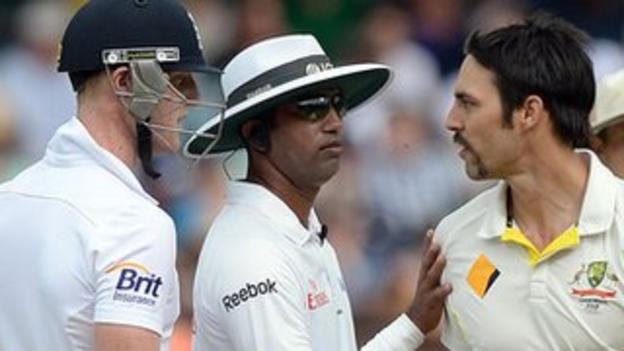 England all-rounder Ben Stokes and Australia bowler Mitchell Johnson have escaped charges after their clash on the fourth day of the second Test in Adelaide.
Full story: Daily Telegraph (Sydney)
Australia have named the same squad for the third Ashes Test in Perth but pace bowlers Nathan Coulter-Nile and Doug Bollinger are on standby.
Australia bowler Ryan Harris says he hopes his side can "bury" England in the third Test in Perth as the hosts aim to go 3-0 up in the series.
Full story: Sydney Morning Herald
Sunday, 8 December
England and Australia are waiting to find out whether the International Cricket Council will punish them over a series of ugly verbal clashes between the players on the fourth day of the second Ashes Test in Adelaide.
It is time, in the language of the dressing room, to look for 'the positives', writes Michael Atherton. England reached 200 for the first time on tour; Kevin Pietersen looked engaged at last; Joe Root relished, truly relished, the challenge; Matt Prior reached double figures and Ben Stokes fought hard for two hours in the toughest baptism of fire imaginable. But the truth is inescapable, and one that England must confront: they are getting a hammering.
Full story: Times (subscription required)
Only Adelaide's volatile early summer weather, and the far less threatening spectre of England's lower-order batting, stands between Australia and a 2-0 Ashes series lead.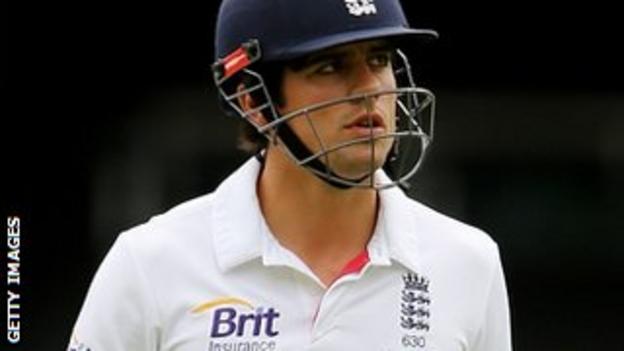 Something is wrong with Alastair Cook and the Australians clearly sense it, writes Martin Samuel They have been picking off England's senior players like snipers on this tour and Cook could be next. He looks a troubled soul, bothered either by Johnson, the captaincy or simply circumstance.
The England batsmen held a meeting in the Adelaide dressing room on Saturday night after their dismal collapse to Mitchell Johnson - and it produced their most spirited batting performance of the series.
Former England paceman Devon Malcolm expects Johnson to continue to torment the tourists throughout the remainder of the Ashes series. "When he's in the groove and has that rhythm no-one can touch him," said Malcolm. "England haven't got an answer to him. If he carries on like this he's going to leave our batting order even more in tatters."
Chat show host Piers Morgan has accepted a challenge on Twitter to face former Australia fast bowler Brett Lee in the nets at Melbourne Cricket Ground. "Quick question buddy, do you have life insurance?" quipped Lee.
Full story: Piers Morgan on Twitter
Pietersen has gone half way to proving he wants to remain a Test cricketer. He has a week to complete the job, during the third Test in Perth, or increasingly serious questions will be asked about whether he still retains the fire in his belly.
Full story: Brisbane Courier-Mail
England can't even get their celebrations right, according to Fox Sports, whose website showed a picture of Pietersen's closed fist clashing awkwardly with Joe Root's open palm. Or are they just playing a game of paper, scissors, stone?
Saturday, 7 December
Eighty years after the famous Bodyline match, a ferocious Mitchell Johnson ripped the heart out of England on the third day of the second Test - and left Australia with one hand on the Ashes urn - with 18 lightning bolts which terrorised the tourists, writes Andrew Capel.
Full story: Brisbane Courier-Mail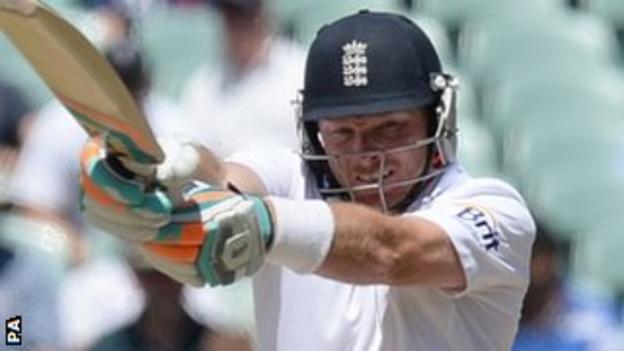 The left-arm quick's raw pace and steepling bounce has left a punch-drunk England slumped against the ropes with the Ashes in dire peril, writes Andrew Faulkner.
There were times during England's disastrous innings that it literally looked as though Ian Bell was playing in a different match, writes Antony Pinshaw. While his team-mates either got themselves out to silly shots or were simply blasted out by a terrifying Johnson, Bell just continued going about his business as if nothing was amiss.
Ian Bell, Michael Carberry and - believe it or not - Monty Panesar aside, England's batting was a steady litany of poor shots, faint hearts, pure selfishness and muddled thinking, writes Martin Samuel.
Shattered stumps, scoreboard meltdown and batsmen with fear in their eyes - this series is turning into a cricketing apocalyptic nightmare, writes John Etheridge under the headline "Down and Rout".
Friday, 6 December
Michael Clarke might as well have told England to get ready for a broken spirit, writes Chloe Saltau. Clarke and Brad Haddin, united as captain and vice-captain when Australia were at rock bottom earlier this year, are looking more and more like the leaders who could bring back the Ashes after demoralising the tourists at Adelaide Oval on Friday.
A blistering Mitchell Johnson and Australia's leadership team have loosened England's hold on the Ashes to their weakest grasp in four years, writes John Townsend.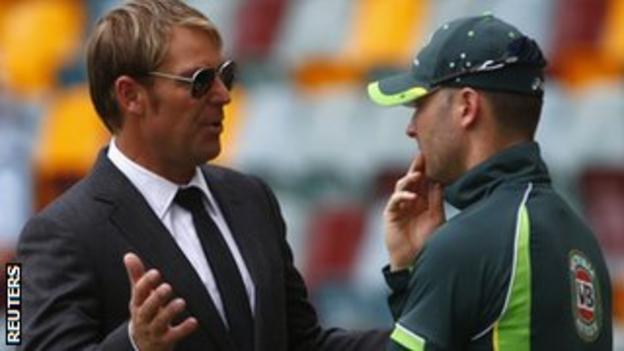 Full story: The West Australian
Michael Clarke is benefitting from the influence of former Australia leg-spinner Shane Warne as he looks to prize the Ashes back from England.
Lose in Adelaide and it is very possible this series will be conceded before Christmas with three straight Test defeats, writes Martin Samuel. As the third day morning session begins, with Michael Carberry and Joe Root at the crease, here is an England team fighting for its future.
Clarke is beguiling a nation with superb elegant batsmanship, far more endearing and convincing than when he tries to play the rough, foul-mouthed sledger of old, writes Vic Marks.
The first signs are emerging that England captain Alastair Cook's shot-selection is being affected, in the Swantonian phrase, by "the responsibilities of his office," writes Scyld Berry.
Full story: the Daily Telegraph
Thursday, 5 December
England have brushed off claims from former Australia leg-spinner Shane Warne that they stocked up on protective clothing before the second Test to counter the anticipated barrage of fast bowling from the hosts.
Belligerent Stuart Broad's screaming send-off to George Bailey late on Thursday highlighted England's satisfaction at wrenching the second Test back from Australia, writes Malcolm Conn.
Full story: Sydney Daily Telegraph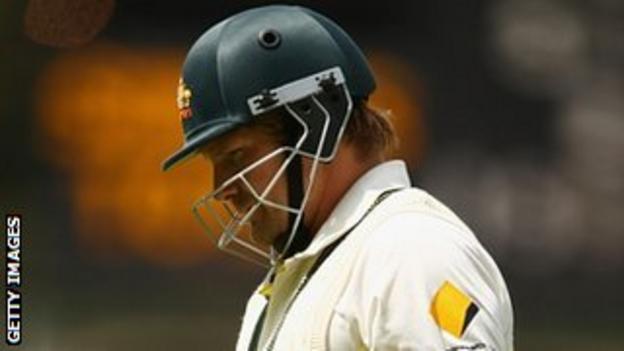 Thursday's innings summed up Shane Watson's career in that he promised so much and delivered something - but fell tantalisingly short of what he or we were craving, writes Robert Craddock.
Full story: Brisbane Courier-Mail
On an unseasonably chilly summer's day in Adelaide, England couldn't catch a cold and Australia could thank their lucky stars, writes Chris Barrett.
Full story: Sydney Morning Herald
Question marks are again hovering over much of Australia's batsmen after meek dismissals on day one of the second Test against England on Thursday.
Full story: The West Australian
If England fail to retain the Ashes, they may well reflect on the first day of this match and conclude it was the moment they let a golden opportunity slip through their hands, writes George Dobell.
England's batsmen are all under pressure and have questions to answer in the second Test in Adelaide, according to former England number three Mark Butcher.
Wednesday, 4 December
Mitchell Johnson's revival in form was prompted by a day he spent with an Australian War hero. Corporal Ben Roberts-Smith, an SAS soldier and recipient of the Victoria Cross, took Johnson to his training barracks where he was given a taste of life in the army.
Former Australian bowler Shane Warne has warned England they face a 5-0 whitewash if they lose the second Test in Adelaide.
Former Australian fast bowler Brett Lee has been named as captain of the Prime Minister's XI to play England in a one-day match in Canberra on 14 January.
England off-spinner Graeme Swann has turned to former Australian spinner Ashley Mallett for advice before the Adelaide Test after struggling in the Ashes opener.
Full story: Sydney Morning Herald
Former England captain Nasser Hussain has urged England to show courage when facing the pace of Johnson. He urges England to strap on a chest guard and take a few blows to keep the Ashes.
Tuesday, 3 December
Former England all-rounder Ian Botham has warned Australia that they will face an 'English whirlwind' in the second Test in Adelaide. He added: "Now is the time for this England side to show what they are made of and, with the Ashes at stake, I expect to see as strong a fightback as any in the last few years."
Nathan Lyon was part of the Adelaide Oval groundstaff that were criticised by Kevin Pietersen three years ago but the Australian spinner will be out for revenge in the second Test.
Adelaide Oval groundsman Damian Hough believes the pitch for the next Test will be a spin-friendly surface.
Full story: Sydney Morning Herald
Australia bowler Ryan Harris says he is fit to play against England in the second Test, despite a history of injury troubles.
Monday, 2 December
Australia will carry on sledging England as payback for the verbal abuse they received during their 3-0 Ashes defeat during the summer, according to Aussie opener Chris Rogers.
Ian Bell has described the emotional aftermath of his Warwickshire team-mate Jonathan Trott's departure from England's Ashes tour with a stress-related illness.
"Over the years, we've seen each other grow from single guys into married men with kids," wrote Bell. "We've seen each other develop from county players into England players and we've won County Championships, Lord's finals and Ashes series together. We've enjoyed each other's successes and mourned each other's failures. So to see him struggle has been hard."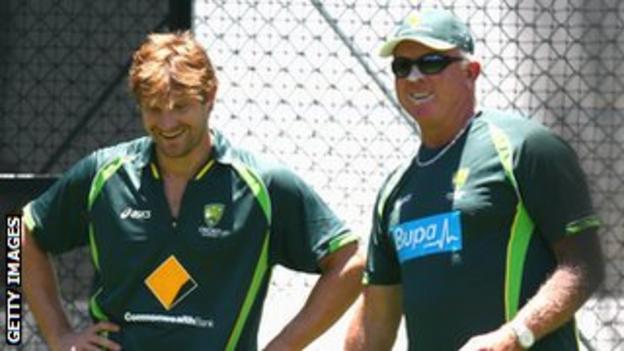 Australia bowling coach Craig McDermott has revealed that he helped the team's pacemen get in shape for the first Test by cooking them a steak dinner at his house. Peter Siddle, who is a vegan, took the "green option".
Full story: Adelaide Advertiser
Stuart Broad and Kevin Pietersen's night out in Adelaide days before the second Ashes Test did not breach team protocol, the England and Wales Cricket Board has said.
The pair were pictured in a nightclub late on Sunday evening, prompting the city's Telegraph newspaper to write: "Ashes villains Kevin Pietersen and Stuart Broad have hit Adelaide's bars instead of the nets - with a vengeance, despite being belted by Australia in Brisbane's Ashes opener." (Press Association)
Australia captain Michael Clarke has been described by team-mate Steve Smith as "fine" to play in the second Test despite tweaking his ankle in training on Monday. Clarke is Australia's best player of spin and has been preparing for the possibility of England fielding two spinners in Graeme Swann and Monty Panesar.
Full story: Daily Telegraph (Sydney)
Australia's cricketers are considering dipping into their own pockets to help fund improvements to the game at grassroots level.
Sunday, 1 December
England could nullify the hostile bowling of Mitchell Johnson by leaving the short-pitched deliveries which helped Australia win the first Ashes Test. New Zealand successfully adopted similar tactics against Glenn McGrath in a 2000-01 series down under when they drew 0-0.
Full story: Adelaide Advertiser
England number four Kevin Pietersen has provided his side's pace bowlers with some batting coaching.
Australian all-rounder Shane Watson says he is able to take on more of a workload when it comes to bowling in the second Ashes Test after he only contributed two overs to the attack in the first Test victory.
Monty Panesar could come into the England side and join Graeme Swann for the second Test as England consider using two spinners in Adelaide.
Doug Bollinger's form has caught the attention of the Australian selectors and the left-arm quick could be put on standby for the third Test in Perth if there are any injuries.
Full story: Sydney Morning Herald
Australian opener Chris Rogers says he "can't afford too many failures" if he wants to keep his place. He scored one and 16 in the first Test.
Full story: the West Australian
Saturday, 30 November
Australia batsman Phil Hughes boosted his chances of a recall by scoring his second century in three Sheffield Shield games. The South Australia opener was dismissed for 103 on the second day of his team's match against Victoria.
Australia coach Darren Lehmann is mulling over whether to bring in all-rounder James Faulkner at the expense of batsman George bailey for the second Test in Adelaide.
Former Test batsman Marcus North has been granted leave by Western Australia from their Sheffield Shield match against Queensland after his brother was killed in an accident on Friday.
Lucas North, 40, was killed when attempting to pour petrol into his broken down car on Perth's Mitchell Freeway when he was struck by a truck.
Full story: Sydney Morning Herald
In-form Australia wicketkeeper Brad Haddin will hold on to the gloves for the long-term, says former Test stumper Ian Healy.
Full story: The Australian (subscription required)
The Barmy Army have evolved from beery bores to benefactors in the past two decades, writes Scyld Berry.
Former Australia fast bowler Merv Hughes has urged Mitchell Johnson to keep his moustache. Hughes, famous for his hairy top lip, said: "I'd urge him to keep a hold of it if things are going well," Hughes said. "It is shaped like a horseshoe and they reckon that brings you luck."
Full story: Daily Telegraph (Sydney)
Friday, 29 November
Australia batsman George Bailey expects the sledging that boiled over in the finale to the first Test at the Gabba to continue in the second match in Adelaide.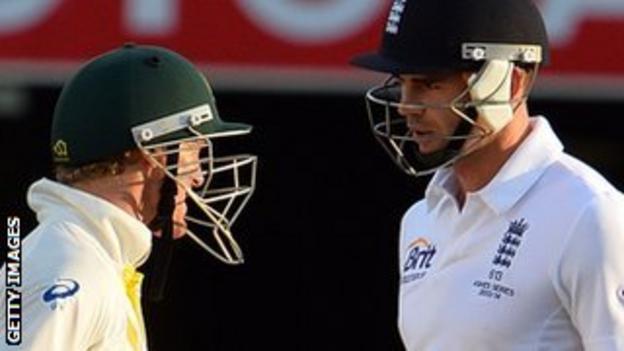 Bailey, who was involved in a verbal confrontation with England's James Anderson, said: "There's always communication out on the field and I think it's one of the real keys to try and find a way to try and make a batsman lose his concentration. Certainly that will continue, no doubt.''
Bailey's comments were echoed by former Australia opener Justin Langer, who said England should be given no respite from the on-field taunting. "As long as it doesn't get personal, it should be played tough," he said.
Full story: The West Australian
Peter Siddle says Australia are likely to field an unchanged team in the second Test, quashing suggestions they may rest a fast bowler. "The biggest judge is the coach, 'Boof' Lehmann, and he spoke about keeping the same side out there and keeping the same bowlers," said Siddle.
Full story: Sydney Morning Herald
Australia paceman James Pattinson will make a tentative return to competitive cricket when he lines up for Melbourne club Dandenong this weekend. He will initially play as a batsman only and will be reassessed over the course of the next month, with a view to taking part in the latter part of the Ashes series.
Australia all-rounder James Faulkner is predicting "a different game of cricket" at the Adelaide Oval, with reverse swing and spin more of a threat than short-pitched bowling.
England Ashes hopeful Ben Stokes insists he will not waste his second chance in international cricket after he was sent home from a Lions tour of Australia earlier this year for breaches of discipline.
Middlesex batsman Sam Robson has pledged his allegiance to England after scoring a century for the Performance Programme in Brisbane. Robson, who was born in Sydney to an English mother, could also have played for Australia.
Thursday, 28 November
England paceman Stuart Broad is confident the team will fare better against Australia counterpart Mitchell Johnson on the slower Adelaide surface in next week's second Test.
"We know the dangers Mitchell has. He has great pace and on that Brisbane wicket he roughed us up with some short-pitched bowling," Broad said. "I think Adelaide will be a different style of wicket and I'm sure we'll play it a lot better."
The Adelaide Oval is undergoing significant alterations, but a typical surface has been promised when a drop-in pitch is used for the first time in the South Australian capital for the second Ashes Test.
Spinner Nathan Lyon believes Australia's combative style is working but admits he is not one of the main instigators. "We know where the line is and we don't step over it. We're going to continue to play aggressive cricket," he said.
"I'm definitely the quiet one. I'm the spinner. I can't really bounce anyone out can I? I'm staying out of that. I'm going to worry about what I can control and that's trying to bowl well and keep enjoying it and playing well for Australia."
Full story: Sydney Morning Herald
Former Australia wicketkeeper/batsman Adam Gilchrist sees little wrong with vicious sledging in cricket and expects it to continue in this Ashes series and beyond.
"I don't personally feel there has been a great deal said, or we have seen on the field any activities that haven't take place for as long as the game has been played, and I'm sure it will continue to go that way," he said.
Durham all-rounder Ben Stokes, who was sent home from the Lions tour of Australia for disciplinary reasons in February, is adamant he has put his off-field problems behind him and is ready to make his Test debut for England.
Wednesday, 27 November
England held informal talks with the umpires about the rules on dangerous bowling following Australia's short ball assault in the first Ashes Test in Brisbane.
Full story: Brisbane Courier Mail
Australia coach Darren Lehmann rejects an offer from Andy Flower to discuss the behaviour of the two teams while David Warner was counselled by Lehmann over his criticism of England batsman Jonathan Trott.
Full story: Sydney Morning Herald
England are angry that the International Cricket Council will not take action against David Warner for his comments about Jonathan Trott.
Former England batsman Paul Collingwood believes Michael Clarke will feel he went too far in warning James Anderson to expect a broken arm in the first Ashes Test.
Full story: The Sun (subscription required)
Former England all-rounder and Daily Telegraph cricket correspondent Derek Pringle suggests similarities are mounting between this tour and the 2006-07 tour, when England endured a 5-0 whitewash.
Tuesday, 26 November
England want Cricket Australia to take action against David Warner over his "disrespectful" comments about Jonathan Trott after the Australia opener called the number three "weak".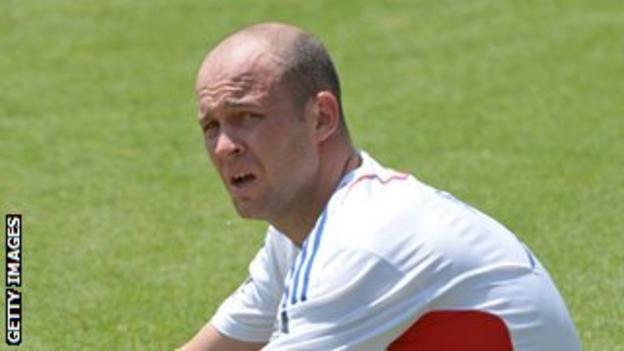 After Trott's decision to leave the Ashes tour because of a stress-related condition, Robert Craddock says the England batsman was cool and calm on the outside, but very different on the inside. "The pressure of this tour simply overwhelmed him."
Full story: Brisbane Courier Mail
Steve James asks how many other first class cricketers are in a similar position to Trott and raises the question: "Should Trott have been on this Ashes tour in the first place?" He also appeals for calm, hoping that Trott's departure "brings a sense of perspective" to the game.
Trott's departure is a "devastating blow" to England's hopes for the series, writes Peter Badel.
However, the reaction in Australia has not been universally sympathetic with the Sydney Daily Telegraph's front page headline stating: "Trott takes his bat and ball and goes home".
England players refused to answer questions about Trott on their arrival in Brisbane, ignoring Australian journalists. It is claimed Kevin Pietersen had headphones in his ears and insisted "I can't hear you" whenever he was asked a question.
Full story: Brisbane Courier Mail
Monday, 25 November
Jonathan Trott has shown he is a strong character by leaving the Ashes tour to aid his recovery from a stress-related condition, says ex-England captain Nasser Hussain.
"I interviewed Stuart Broad and asked him how he was going to cope with all the abuse he'd be getting fielding in Australia on the boundary. He laughed and said: 'Don't worry, we'll put Trotty down there. It'll be in one ear and out the other.' Trott can handle the pressure alright - and his team-mates know it," said Hussain.
However, former Kent captain David Fulton believes Trott might find it difficult to return into the international set-up. "He was a fine player but once you put your demons out there it becomes harder to come back," said Fulton. "Cricket is quite conflicted in that it is a gentleman's game, supposedly, and yet there is this gladiatorial aspect to it, a nasty side."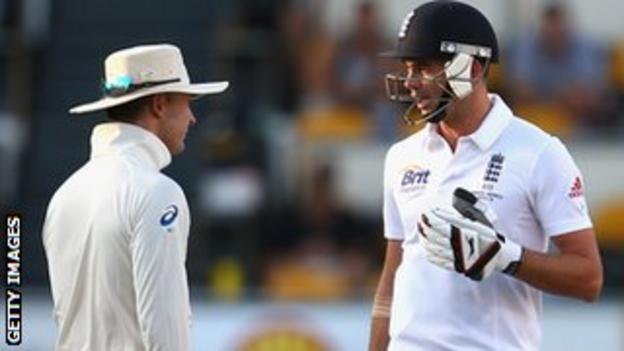 James Anderson threatened to punch George Bailey during the first Test, according to ex-Australia leg-spinner Shane Warne. Australia captain Michael Clarke has since been fined 20% of his match fee for warning Anderson to expect a broken arm.
Full story: Shane Warne's Twitter feed
Australian television station Channel Nine has apologised to Clarke after his verbal tirade at Anderson was picked up by the broadcaster's stump microphone.
Full story: Sydney Morning Herald
The moment Michael Clarke bared his teeth as Australian captain might be the one that finally makes his country appreciate him, says Australian journalist Chloe Saltau. "Clarke's ruthless intent with the bat, with his field placings and with his verbal aggression towards Anderson revealed a mongrel streak that most Australians have not glimpsed in him before," Saltau wrote.
Ashton Agar, who scored an amazing 98 while batting at number 11 on his debut in last summer's Ashes, has been fined 25% of his match fee for "showing dissent at an umpire's decision" during Western Australia's Sheffield Shield match against the Victorian Bushrangers.