Ashes 2013-14: England's Joe Root set for Australia examination
Last updated on .From the section Cricket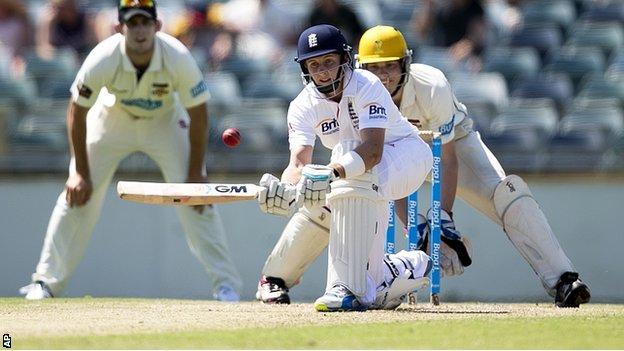 England opener Joe Root insists he will be ready for an examination of his technique and mental strength in the Ashes series down under.
But Root, 22, told BBC Sport: "I've just got to make sure I prepare my game for every possibility.
"I need to cover all my bases and make sure I'm ready for anything."
Root had a mixed time with the bat during England's 3-0 victory over Australia this summer.
He scored a masterful 180 at Lord's but managed one only other score in excess of 50 in nine innings and was frequently caught behind or at slip after staying on the back foot to a full delivery.
The Yorkshire batsman has been talking to England's coaching staff about how to approach facing the new ball, but does not believe the solution is simply to get forward more often.
"We talked about how wickets are going to be fast and bouncy and typically Australian, so you want to cover all areas and work on everything," he added.
"In the summer they bowled very full at me so it will be interesting to see how they go."
Warne believes Root will be "found out" as an opener in Australia and should return to the middle order, where he started his England career.
"If I was choosing the side, I'd open the batting with [Michael] Carberry and put Root down to number six," said Warne, who took 708 wickets in 145 Tests before retiring from international cricket in 2007.
"Root played really well at Lord's, and Australia had a bit of a shocker there, but I don't think he's an opener. I don't think his technique is tight enough.
"I think you could be crucifying him if you're facing Ryan Harris or Mitchell Johnson on fast, bouncy pitches.
"He's going to 'nick off' a lot and I think - as we saw before, aside from Lord's - Australia really did have his number."
Speaking before Warne's comments were made public, Root said he was expecting to have to deflect criticism from Australian quarters in the build-up to the first Test in Brisbane starting on 21 November.
"I'm sure the build-up will be more Australian-oriented and I'm sure I'll be getting a bit of stick, but that's all part of it and I'm looking forward to all of that," he said.
"It's something I've always wanted to do and I just can't wait to get to that first Test and get out there and get amongst it all."
Meanwhile, Root's England team-mate Jonathan Trott believes he has rediscovered his form after a difficult summer series with the bat.
Trott, who averaged 29.30 against Australia, began his tour with a century in England's draw with a Western Australia Chairman's XI last week.
The 32-year-old Warwickshire batsman told BBC Sport: "I spent a lot of time in the nets with Ashley Giles in the week we had off trying to go over some basic things.
"When you are playing so much, little habits creep in and they can become big habits if you don't do anything about them.
"I think the Australians bowled really well, but I think I allowed them to because of my game not being where I wanted it to be, making me have a series I didn't want to have.
"The hundred at Perth is exactly what I would have wanted and it certainly gives me confidence going into the first Test."