Ashes 2013-14: Kevin Pietersen to join England's illustrious 100 club

By Tom Fordyce
Chief sports writer
Last updated on .From the section Cricket281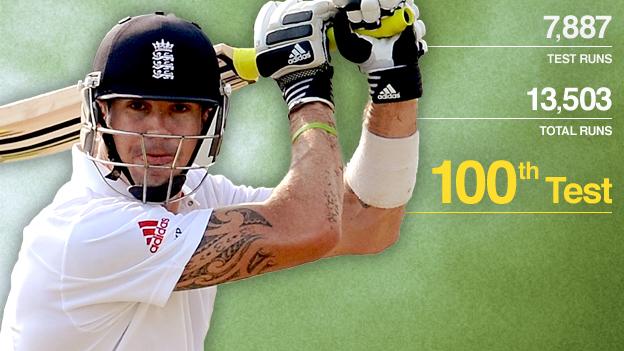 Along with the hoopla and hype around this week's first Ashes Test in Brisbane, a major landmark will be celebrated: Kevin Pietersen's 100th Test.
It will come as a surprise to some, for whom Pietersen has always had the contradictory air of permanent impermanence in the England set-up.
And even for those in no doubt about his longevity there will be other questions: how good he has been, how long he has left, whether he has been as truly loved as a player of his class and rarity should be.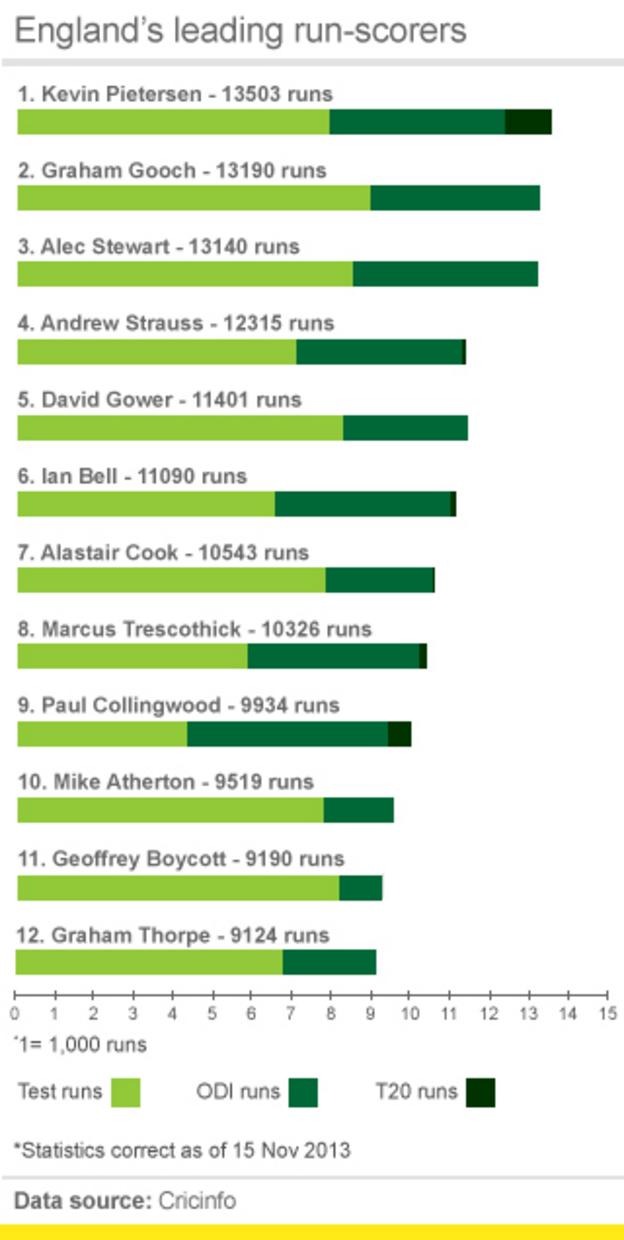 For make no mistake about it, Pietersen has succeeded.
If raw stats are your thing, ponder a few of these: more Test appearances than Wally Hammond, Ted Dexter and Peter May; a higher Test average than David Gower, Geoff Boycott and Colin Cowdrey; more Test centuries than Graham Gooch, Len Hutton and Ken Barrington.
He has stood tall on the winning side in four Ashes series, been the most feared batsman in a team that became the first England side in history to top the official Test rankings, and was crowned player of the tournament when England secured their first global limited-overs trophy.
By cold data and stirring deed, undeniably, he should be worshipped by England supporters. Why then is there a sense that he is more appreciated than adored, show-stopper but not leading man, further from English cricket's collective heart than Marcus Trescothick, let alone Andrew Flintoff?
Those who have played with Pietersen speak of two things: a work ethic as intense as anyone in Test cricket, and a vulnerability that requires his captains to offer constant reassurance of his pivotal importance to the team.
That these traits are often disguised by an apparent strutting braggadocio and naked ambition plays badly to an audience raised on self-deprecation and manly modesty, even if that very assurance and ambition are integral to almost all successful sportsmen.
Pietersen, after decades in which England batsmen often appeared to wilt under pressure, has always been at his best when the battle has been most intense. It is a trait that defines many of the greats. Yet there can be something faintly comical in his relish for that limelight, as if the chin-jutting and ostentatious swagger are somehow pretensions rather than essential characteristics for his chosen role.
When Viv Richards displayed the same lofty on-field hauteur, few English supporters ever considered it pomposity or conceitedness. Both accusations have been laid at Pietersen's door, even though the end product, if gauged by Test average alone, has been virtually identical for both men.
Some have never quite forgiven him his unorthodox route into English cricket, no matter that he has an English mother and a tattoo of the three lions on his left tricep, or has stuck around longer than so many other storied heroes of the national side.
With the media he can be prickly to the point of disdain, while simultaneously appearing to crave the attention. When he does speak, he will often make a point of stressing that his personal triumphs are as nothing to the success of the team.
It is his misfortune that, to the doubters, the more vehement the protestation, the more forced it sounds.
"It's not easy being me in that dressing room," he famously complained last summer, just before being dropped from the team for sending personal text messages to their South African opponents.
In that respect, he has resembled his stylistic opposite, Geoff Boycott: endured by his team-mates for what he brings on the pitch rather than ever being one of the boys, a self-obsessed essential in a team sport that is decided by individual confrontations.
But he has always stood apart, for his style and audacity at the crease as much as his perceived personality.
After a period when English cricket was served by stiff upper lips and doughty yeomen, winning positions dug out by diligent application and watchful attrition, Pietersen's explosive arrival felt akin to that of punk into a pub rock world - slog-sweeping Shane Warne into the Oval stands, switch-hitting Muttiah Muralitharan out of Edgbaston.

No-one looked like him, whether it was the skunk hair or the thumping whips through midwicket from outside off, the strolls down the pitch to fast bowlers or the one-legged flays off anything full.
And it worked. He was the fastest player in history, chronologically, to reach 4,000 Test runs, then 5,000, then 7,000.
Neither has he ever truly been neutered by opposition bowlers or strategies, despite the much-discussed weakness against slow left-armers. Arguably all five of his best Test innings have come in the past three years.
There are caveats. He still lags behind those indisputable batting greats of the past decade and a half, Ricky Ponting, Jacques Kallis and Rahul Dravid, let alone the two diminutive men who stand even higher, Brian Lara and Sachin Tendulkar. He is highly unlikely to match either their Test run aggregates or averages.
There is no shame to be taken there. Where he surpasses all of them, let alone his contemporaries in the England team, is his rate of scoring.
In the build-up to the 2010 Ashes, former Australia opener Justin Langer told me that Pietersen was the England batsman his side feared most, because only he had the ability to take a game away from them at pace.
Big scores are one thing. Big scores made at a careering lick win matches, not just prevent defeats.
Pietersen may so far lack a defining series, in the way that the summer of 1981 is forever Ian Botham's, or that 1985 belonged to Gower, 2005 to Flintoff.
Sometimes there is the sense that Pietersen is the scorer of fabulous individual innings rather than someone who ruthlessly squeezes the life from the opposition over the course of several Tests - as Alastair Cook did down under in 2010-11 - even if he top-scored in the Ashes of 2005 with 473 runs at 53 and again averaged more than 50 during the miserable reverse of 2006-07.
But in his defining displays - that faultless 227 in Adelaide last time out, his 186 at Mumbai last winter, the 202 not out against India at Lord's in 2011 - he has not only set up iconic victories but done so by first perplexing and then pummelling the opposition bowlers.
Adelaide laid the foundations for England's first series win in Australia for 24 years. Mumbai led to England's first series win in India for 28.
In each innings Pietersen produced a combination of power and placement that no witness will ever forget, playing shots that no other batsman in Test cricket would either risk or realise.
In Adelaide he scored at 74 runs per 100 balls, in Mumbai 80. No-one else in English cricket history save Botham or Flintoff could demolish an attack at that rate. Neither of those two could do it in such a sustained nor frequent fashion.
His ability means he is often judged by different standards than more prosaic team-mates.
He is capable of so much that an injudicious dismissal feels that much more wasteful. Top-score but get out attacking and he will attract more opprobrium than someone who makes half as much.
No-one either is quite sure how long it will all last.
While he has often restated his desire to score 10,000 Test runs, with 30 centuries and a Test average of 50 (he is currently 2,113 runs, seven tons and 1.6 short) there remains the suspicion that the lure of the Indian Premier League will see him quit long before.
We should appreciate him while we can. Because when he departs, we shall all be acutely aware of the gaping hole left behind.