Ashes 2013-14: Alastair Cook not fazed by Shane Warne criticism
Last updated on .From the section Cricket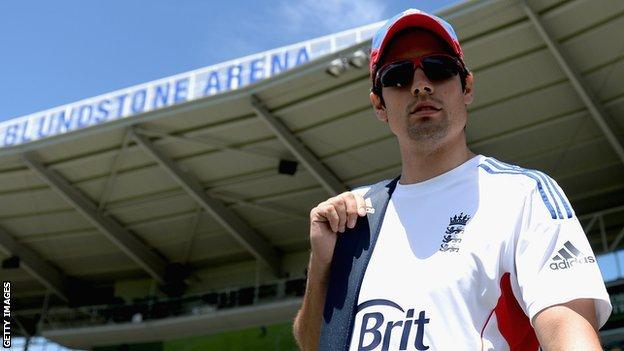 England captain Alastair Cook says he is not worried about criticism from Shane Warne ahead of his side's penultimate Ashes warm-up match.
"It is water off a duck's back," said the 28-year-old Cook. "It is something we have come to expect from him."
Cook missed England's first warm-up match with a sore back but returns for the game with Australia A, starting at 23:00 GMT on Tuesday.
Warne originally questioned opener Cook's captaincy during the summer, as England beat Australia 3-0 to retain the Ashes.
And the Australian has revisited the subject before the return series gets under way on 21 November - although Cook did not appear too perturbed.
"We wouldn't really expect anything different in terms of an Australian slagging off an Englishman," said Cook. "That's pretty much how it is."
Warne also questioned England's decision to open the batting with Joe Root, saying the 22-year-old's technique was not "tight" enough.
"Joe Root has handled himself amazingly well in Test, one-day and T20 cricket," said Cook.
"I don't think I have seen a young player come in and adapt to any situation as well as he has. It is a real mark of quality that he can do that.
"We have got a good squad around him who have been there, seen it and done it. But he doesn't need too much help."
Former England all-rounder Sir Ian Botham said he regarded Warne's comments as "banter".
"I've seen all of the baiting and all of the stuff going on, but I'd expect that," Botham told BBC Radio 5 live.
"I like the banter. If Warney didn't come out with something, I'd be very disappointed. If it's not Warney, it's Glenn McGrath. It's great."
He added: "If I was an Australian, I would be worrying more about what's going on in my own back yard rather than worrying what England are doing.
"I can't see how Australia are going to take 20 wickets at the moment. They are struggling in the bowling department, so it is all looking good for England."
England drew their opening tour match in Perth and are preparing for a four-day encounter against Australia A in Hobart, the second of three warm-up matches before the first Test in Brisbane.
Cook said there were two places in the team still to fight for.
"The third seamer spot is probably up for grabs and one of the batting spots," he said. "There is an opportunity for people to stake a claim."