Ashes 2013-14: What makes a great Test captain?

By Tom Fordyce
Chief sports writer
Last updated on .From the section Cricket106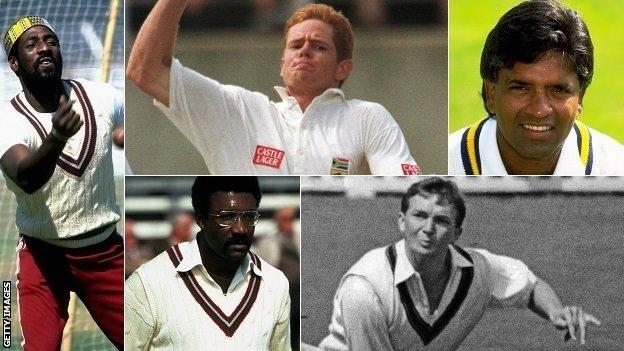 It was one of the curious contradictions of the summer's Ashes series that, while Alastair Cook steered England to a 3-0 win, it was his opposite number Michael Clarke who many wise old heads declared the superior captain.
If that shouldn't make much sense - isn't a skipper's primary task to win matches? - it reflects both the complicated set of skills required by a Test leader and the often unrealistic expectations that team-mates, supporters and media have of them.
Legendary Aussie spinner Bill O'Reilly once declared that a collie dog could captain a Test side. But "Tiger" never had to worry about his side's star batsman sending text messages about him to the rival team, or his opening batsman chinning his opposite number in a bar.
Which is why, a few weeks into this soggy autumn, the cosy bar of a discreet central London hotel is a particularly opportune place to be. Here, within an underarm throw of each other, are some of the greatest skippers in cricket history.
Gathered together to celebrate august cricketing charity the Lord's Taverners, they are also the perfect source material for anyone wishing to uncover the secrets of successful Test captaincy.
"You must get respect," says Clive Lloyd, 110 Tests for the West Indies, skipper for 11 years, the dominant Test leader of his generation. "And you must give respect back to the game, to the people who put you there, to the fans.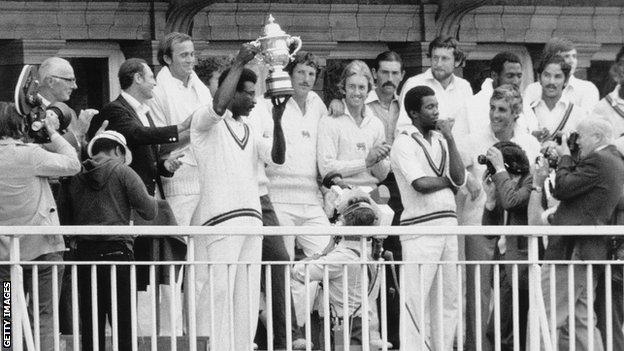 "To get players from different island cultures to work as one was not easy. I got that because they respected me. They knew what I was about. They realised that I wanted to bring West Indian cricket to a level it had never been to before, so I got their support.
"They realised what was expected of them: training hard, winning, becoming the best team in the world. Any new player that came in knew exactly what was expected."
In Lloyd's time in charge, the West Indies would become one of the most feared sides the game has seen, a relentless pace attack and remorseless batting line-up taking them to a record 27 matches without defeat, consecutive series whitewashes of England home and away and one-sided triumphs in the first two World Cup finals.
In all that time, Lloyd - still a big, affable bear of a man at 69 - understood he could never consider himself unblemished, that leadership does not have to mean dictatorship.
"You can't be arrogant. You have to understand that you will have players with alternative views," he added.
"You need your thinkers. Your wicketkeeper can help you. For me, someone like Malcolm Marshall was a great thinker; you can't get 346 Test wickets, in a team with three other guys who are just as good as you, without using your nut."
If Lloyd's success in unifying a disparate group of players into such a unit was something that would haunt some of his successors, Arjuna Ranatunga had an even more testing task: take Test cricket's newest nation from the fringes of the elite game to its very heart.
He may not have shared Lloyd's imposing physique - squat and chunky as a player, Ranatunga has relaxed still further in retirement - but his achievements in 11 years as Sri Lanka's captain, culminating in their shock World Cup win of 1996, stand tall to this day.
"Discipline is a key aspect," he says, over a pot of tea in a quiet corner.
"Pick the right team, even if it means you won't be the most popular man in the dressing room. You may have to leave out senior players. But you are doing it for your country. And when you do the right thing, people will respect you.
"You need to understand men. I used to study all my players, not only the cricket part but also their personality. And according to that, I used to handle each in their own particular way.
"Treat different players in different ways. Some need shouting at. Some need treating very nicely. Know where you stand."
When Cook first assumed the England captaincy, his batting blossomed - five Test centuries in his first six matches. Against Australia last summer, he found the going much harder; his aggregate of 277 runs, at an average of 27, did not include a single ton.
"As a batsman you still have to do your stuff," says Ranatunga, 49. "Every aspect of your game has to be at 100%. As a batsman I'd want to be out there showing the rest what to do - in a tough situation, tough it out.
"But it happens to most of us. In my early years, I was more concerned about the team than my own performances. I didn't do great for myself. But I brought a good cricket team to win a World Cup."
Cook is 28 years old, Clarke 32. Experienced in cricketing terms, they are nonetheless greenhorns compared to their equivalents in other industries. Few business leaders are expected to perform flawlessly at a similar age. And few business leaders have every decision they make analysed by the national media.
"I look back now, aged 40, and think, I know I could have done a better job if I'd known what I do now," admits Shaun Pollock, 108 Tests for South Africa, skipper of the Proteas from 2000 to 2003.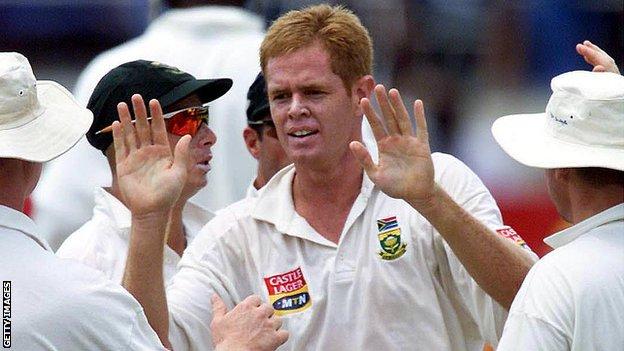 "I would have done some things differently. You take over, and you have guys six or seven years older than you. It's not easy putting them in their place if things are going wrong, while also encouraging the younger guys.
"In a touring team of 15, you'll find that eight of them are feeling comfortable with their form. Three will be struggling. And four are pushing hard to play. You need to know where each one is at, at all times."
Pollock, much like Cook and Clarke, was the outstanding player in his side, promoted to the leadership role as much for his on-field performances as anything else. It required him to be as ruthless in his private life as he was with his tactical decisions.
"You do need to separate yourself from your team-mates at times, because you've been given responsibilities. Friendships in sport, unfortunately, can't get in the way of achieving the team's goals, and you have to be aware of that.
"And yet you can't lose the common touch, because the guys know you for who you are, and if you pretend to be someone else, they won't trust you.
"I called it first floor management: looking down on the ground floor and understanding where everyone is, and where everyone is moving. And how you can channel that energy.
"It's vital to get a good rapport with the individuals you're dealing with - what their strengths and weaknesses are, where you can push them, where you can't - and also your strengths and limits as a team unit.
"Identify the points in the game where you can use those strengths to work an advantage. Identify what team you work with. It's no good being aggressive if you don't have the aggression to back it up. Sometimes you have your hands tied. We didn't have a Shane Warne we could just throw the ball to."
Then there is the need to be brave, to know when to go on the defensive and when to gamble.
"Don't be scared of failure," shrugs Sir Viv Richards, 121 Tests for the West Indies, 50 as skipper when Lloyd finally stepped down. "It teaches you how to win."
You might expect such bellicose talk from a man like King Viv, who even aged 61 swaggers in the same grinning way that he did in his bowler-flaying pomp. But equally important to him was something few would associate with the stereotype of Caribbean cricket.
"Punctuality starts it all. You have a team all on a coach, ready to go to practice, and two guys are late - that's the start of the end of the battle.
"If you prepare well, that sets the tone for everything else. It gives you the sense of what you can achieve. It sets the tone for everything else."
What do these greats make of Cook and Clarke? Richards believes England's leader has edged the first leg of this Ashes double, although he sympathises with the inexperienced resources at Clarke's disposal.
"I haven't seen an Australian team so low in batsmanship in all the time I've been watching cricket," said Richards.
Ranatunga, while admiring Cook's equanimity and calm authority, disagrees. "Clarke is the best I have seen of this generation," he says. "He takes decisions at the right time.
"As a Test skipper it's very important to identify the weaknesses of the opposition players quickly. Michael does that very well. I voted for him as emerging player of the year a decade ago, because even then you could see that he had class as a cricketer.
"He doesn't have the same team as [Ricky] Ponting or [Steve] Waugh enjoyed, and he may have lost the Ashes, but he has all the key attributes."
One man's great leader, of course, can be another's phony. Mike Brearley is considered by most to be England's finest captain; Ray Illingworth, characteristically, told him instead he was simply the luckiest, blessed to come up against feeble Australian sides with titans like Ian Botham to work miracles on his behalf.
It is something echoed by another instinctive, original cricketing guru.
In the far corner of the bar sits Richie Benaud, never on the losing side in a series in his six years as Australia captain, as innovative and distinctive while in charge as he has been in his equally garlanded media career.
"You're hoping all the time that the next thing you do will be successful," the 83-year-old says. "It may not be, and that will make you unhappy pretty quickly.
"Be lucky would be the thing. People tell me I had success as a Test captain, but I was a lucky captain.
"And if you're not lucky, it doesn't matter how good you are. You might make a couple of decisions, a bowling change, a fellow gets a wicket; an hour later, you make another bowling change, the chap goes for 16 off his first over. Luck is the number one thing."